A Bar Mitzvah to Remember: From Arab Villages to the Homes of Leading Mekubalim
January 20, 2021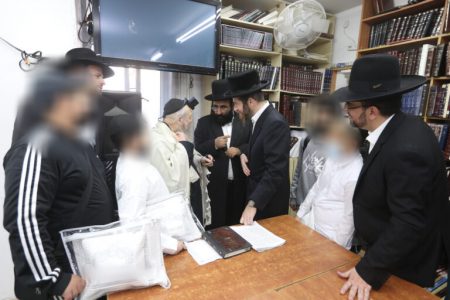 Three youths who share similar life stories – born in Arab villages to Jewish mothers and Muslim fathers, and rescued by Yad L'Achim – celebrated their Bar Mitzvahs last week with emotional visits to our generation's leading kabbalists.
At the start of their special day, they were warmly received by Harav Yaakov Ades, Shlita, of the Yeshivas Hamekubalim in Yerushalayim, who is regularly updated on Yad L'Achim's rescue work. Harav Ades not only presented the boys with the mehudar Tefillin that had been purchased for them by Yad L'Achim, but, in an extremely rare move, helped them don them. In each case, he lingered, directing special kavanos and segulos to help the advance toward holiness and purity.
In heart-to-heart talks, he blessed them on entering the age of Mitzvos and accepting upon themselves the Heavenly Yoke, like kosher Jews.
From Harav Ades, the boys continued on to the elder of the kabbalists, Harav David Batzri, Shlita, who blessed each one individually. The Rav was happy for the opportunity to receive first-hand reports on Yad L'Achim's life-saving work and blessed the organization with continued success. The boys' escorts informed him that at the very moment of their visit, Yad L'Achim security people were making their way to Beit Jala, near Beit Lechem, to rescue a Jewish woman and her four children.
After receiving blessings from these great kabbalists, the boys were taken by their Yad L'Achim escorts to a special seudas mitzvah, followed by horseback riding. The day was capped off by a Tefillah at the Tomb of Shmuel the Prophet.
The Yad L'Achim staffers were moved to overhear one of the children sharing his reaction upon hearing about the history of the place and the mesirus nefesh of Chana, Shmuel's mother, on his behalf. "Our mothers, who escaped from Arab villages despite the dangers in order to give us a bright future, made no less a courageous step than Chana."
An official at Yad L'Achim's counter-assimilation department, summing up the day's events, said: "Every time a Jewish child who has been rescued from an Arab village with his mother approaches the age of Mitzvos, we start preparing a few months in advance as to the significance of reaching 13. We spare no expense to enable him to celebrate his Bar Mitzvah like any other Jewish child. We are the family of these children and as such provide them with all the things that every Bar Mitzvah boy receives. These boys don't have a father to embrace them and accompany them throughout their lives and we do everything possible to meet this need."