Ana Yehud – I'm a Jew!
January 15, 2008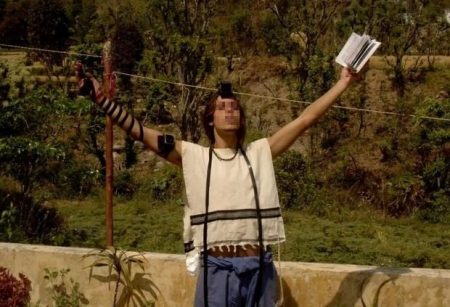 Hospitals are often the backdrop for emotional, intense exchanges. But Rabbi X, who heads a network of Torah institutions, wasn't in the least prepared for the drama that unfolded at his son's bedside in Schneider's Children's Hospital in Petach Tikva.
"A teenaged boy, 15, was in the next bed," recalls the rabbi. "From his appearance, it was obvious that he was an Arab. He engaged us in conversation and then said, 'ana yehud,' ("I am a Jew" in Arabic). We were stunned. He went on to explain that his grandmother, a Holocaust survivor, had come to Israel all alone and settled in a mixed Jewish-Arab city.
"She had six children and many grandchildren who were all raised as Arabs. But recently, just before her death, she summoned her children and asked to be buried as a Jew because she was Jewish from birth."
The rabbi immediately contacted the chairman of Yad L'Achim, Harav Shalom Dov Lifschitz, who sent several activists to the hospital to meet the boy. Anyone witnessing the scene would have been taken aback. The teenaged boy and several of his male relatives, looking like Arabs in every way, spoke with great emotion about their Jewish roots, presenting official documents to back up their claim. After a long, moving conversation, some put on tefillin for the first time.
Yad L'Achim is now in advanced contacts with a number of family members who are receiving lessons in Judaism and expressing a strong interest in leading full Jewish lives.
The unusual case was discussed at an emergency meeting held by Yad L'Achim in light of a surge in calls to its hot line on issues relating to assimilation. The hot line received 100 calls for help in the past month alone, compared to 43 calls received in the same month last year.
The calls come from all around the country, from all sectors. They are handled by a staff that includes social workers, lawyers and volunteers that help organize housing, food and employment.
"The steep rise can't be ignored," says Harav Lifschitz. "It is clear that there is no population group or area of the country that is immune. We must all be alert to distress among young people, and pay special attention so that they don't feel rejected."
Regarding the astonishing case at Schneider Hospital, Rav Lifschitz observed: "Who knows if that Holocaust survivor might not have remained with the Jewish people if she had received the right attention at the right time?
"Today, as well, with genuine understanding and a sense of mutual responsibility, it is possible to save girls whose children might become Arabs for future generation, R"l."
Yad L'Achim renews its call to Jews to open their homes for Shabbos and for support for those who have been rescued from assimilation.