Arad Residents Rally Against Missionary Coffee Shop
March 01, 2006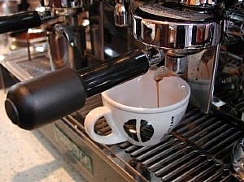 Hundreds of Arad residents demonstrated recently at a missionary center operating as a free coffeehouse near the city's main market.
The center, run by messianic Jews, invites passersby to drink coffee, play chess and read selections from its library, which, not surprisingly, stocks missionary literature.
Everyone who enters the center is handed a four-page newsletter headlined, "A Minute to Midnight," which boasts, in big red letters, "The missionaries are coming!!!"
Once the missionary center was uncovered by Yad L'achim, the local community began organizing a steady stream of protests aimed at getting it shut down.
Rabbi Shamaya Tannenbaum, United Torah Judaism's representative on the Arad city council, said, "I take this matter very seriously and will take every legal step at my disposal to clean out this new missionary nest."
The recent demonstration was opened by Harav Albo, the city's Sefardi chief rabbi, who called on all segments of the public to join in the struggle and offered a prayer that the missionary cult will be forced out of the city.
The city's Ashkenazi chief rabbi, Harav Lipsker, addressed his remarks directly to the missionaries who sat quietly across the street. "You are no less dangerous than the terrorists who seek to destroy us," he said. "They come with weapons and mines, and you come with smiles and gifts in order to destroy the Jewish people.
"Hypocrites, leave here! Go away!" he ordered, to the applause of hundreds of demonstrators and passersby.
Rabbi Alex Artovski, head of Yad L'achim's antimissionary department, detailed several recent examples of missionary activity and, addressing the missionaries, warned, "Don't touch the Jews! We will use all legal means to stop you!"
The final address was delivered by the Rav of Kiryat Gur in Arad and the local Rosh Yeshiva, Harav Wolkovitz, who said, "We will not rest until the plague that has spread in our city is removed forever."
Harav Yisrael Lipschitz, one of the leaders of Yad L'achim, later commented that offering a place to sit, relax and have free refreshments is a standard practice for the missionaries that is widely used in Tel Aviv.
"Messianic Jews are running a place called Gallery Dugit on 43 Frishman Street, in which missionary activities are carried out in what pretends to be a free coffeehouse," he said. "Yad L'achim is continuing to operate in Arad, distributing informative material to warn innocent Jews not to fall into the trap the missionaries have set for them."