Blessed Is the One Who Uprooted Idolatry From Our Land: Missionary Channel Ceases Broadcasts
July 07, 2020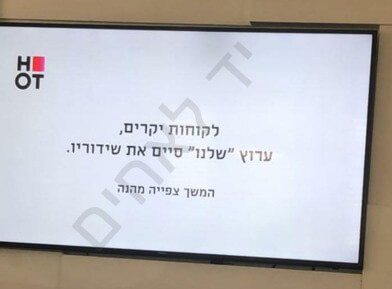 A week after the Communications Ministry decided to shut down the missionary channel "Shelanu," which reached hundreds of thousands of homes in Israel, the channel was taken off the air.
The story begins half a year ago, when Yad L'Achim revealed the intentions of missionaries to run a TV channel that, for the first time in Israel's history, would broadcast missionary messages in Hebrew, or in English with Hebrew subtitles, 24 hours a day. In the wake of a determined lobbying campaign targeting the Communications Ministry, with the assistance of the chairman of the Knesset Finance Committee, Rabbi Moshe Gafni, the powers that be decided to revoke the missionaries' license.
The head of the Council for Cable TV and Satellite Broadcasting, Mr. Asher Biton, ordered that the channel cease broadcasting within seven days because it "appeals to Jews with Christian content, as opposed to what it said in its original request for a license – that it was aimed at the Christian public."
When the decision was publicized, the missionaries tried to pressure the government to revoke it by portraying it in the foreign media as a case of "religious persecution" – ignoring the fact that the missionaries had obtained their license by devious, fraudulent means.
In a veiled threat, a Shelanu spokesman told Fox News that the station's management hoped the council would approve its request to continue broadcasting "and thus avoid a severe diplomatic incident with hundreds of millions of pro-Israel evangelical Christians worldwide."
It was reported elsewhere that it "very rare" for Israel to remove a station.
Yad L'Achim expressed satisfaction with the government's decision. "We are standing up for our lives, which is a basic right that is respected in the United States."
An official added: "According to our information, the missionaries have no intention of continuing to battle for their TV station, and, instead, will keep broadcasting their material over the internet. With |G-d's help we have succeeded in this area as well, but are prepared for more difficult battles ahead against the missionaries and pray that we will continue to persevere."