Emergency Meeting Called to Protest Missionaries Operating in Chareidi Neighborhoods in Yerushalayim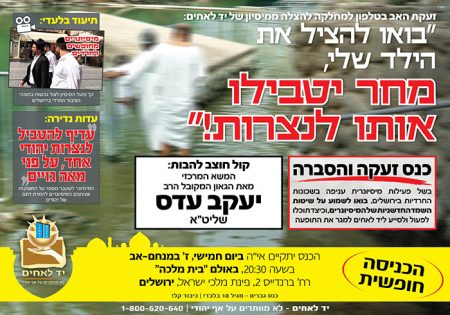 Due to burgeoning missionary activity in chareidi neighborhoods in Yerushalayim, Yad L'Achim has called an emergency meeting to expose the cults' tactics.
The gathering is to be addressed by a former missionary who will tell his personal story and reveal the instructions he received from the cult as to the importance of converting Jews. "It is better to baptize one Jew, than 100 non-Jews," he was told.
During the meeting, an exclusive film will be screened documenting missionaries dressed as chareidim and circulating in chareidi neighborhoods, with an explanation as to the scope of missionary activities in Israel.
The gathering will be held Thursday, the seventh of Av, at 8:30 p.m. at the Beis Malka hall on Rechov Brandeiss 2, the corner of Malchei Yisrael in Yerushalayim.
Yad L'Achim says the meeting is meant to expose the public to the dangers and to recruit avreichim and yeshivah students to volunteer for the organization's sacred activities in fighting missionaries.
Admission is for men only, from age 18 and up.