Haaretz Ad Draws Secular Support for Anti-Missionary Law
06/16/2011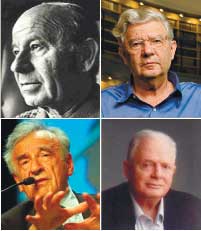 Yad L'Achim's new campaign is reaching out to wider audience
A prominently place ad in Haaretz last week, warning that "Messianic Jews are Pulling the Wool Over Our Eyes," has prompted an outpouring of calls to Yad L'Achim, the ad's sponsor.
The calls, and willingness to enlist in the campaign to toughen legislation against missionary activity, is coming from Haaretz' largely left-wing, secular readership.
The succinctly worded ad features four leading figures who state unequivocally that Messianic "Jews" are not Jews, as they claim.
Former Supreme Court President Aharon Barak, who championed democratic values – often at the expense of Jewish ones – is quoted in a ruling as saying, "Messianic Jews" belong to a different religion.
Former Supreme Court Justice Zvi Berenson is quoted as saying that Judaism has repelled "Messianic Jews."
Former Justice Minister Tommy Lapid, who was clearly antagonistic toward the religious community, wrote: "I categorically oppose the activities of the missionaries and believe that after they have, over the generations, forced millions of Jews to convert to Christianity, they should leave the Jews alone in their own country."
Finally, Nobel Peace Prize Winner Eli Wiesel is quoted as saying, "Messianic Jews" are spreading a net of deceit and lies.
The ad concludes with a call for action: "The time has come to legislate a law that will put the brakes on the missionaries' destructive activities!"
The response to the ad was electric, as Yad L'Achim's headquarters was inundated with calls from Haaretz readers, many of whom had been unaware that those calling themselves "Messianic Jews" are frauds.
Many of the callers gladly added their names to a petition being circulated by Yad L'Achim calling on the Knesset to amend the anti-missionary law so that it forbids all missionary activity (and not just that among minors or involving financial inducement to convert).
The ad also prompted a strong reaction among the missionaries themselves, who, in their internal publications, hysterically proclaimed that "Yad L'Achim has stepped up its battle."
One publication wrote: "We will organize a campaign to block the renewed activities to amend the anti-missionary law." It lists a series of activities that they plan to undertake in order to block the majority they fear will be enlisted in the Knesset for the amendment.
Yad L'Achim chairman Harav Shalom Dov Lifschitz said this week, "there is no doubt that this advertisement is succeeding in enlightening the masses as to the dangers, and we plan to place similar ads in places that will reach the wider public. Baruch Hashem they are having an effect."
Relating to the panicky reaction of the missionaries, Rav LIfschitz said: "This just shows us how vital it is to amend the law, and that further delays can have devastating effects."