J's Witnesses Operating in Holon, Ra'anana
11/24/2011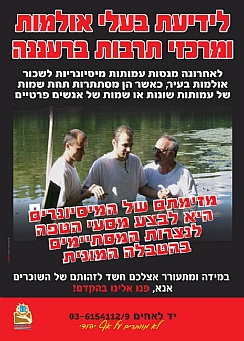 The J's Witnesses cult has been foiled in several recent attempts to hold mass gatherings that culminate in the baptisms of Jews.
In Holon, for instance, Yad L'Achim was tipped off about the missionary group's plans to hold such an event on Shabbos. It brought the information to the attention of the city's deputy mayor, Chaim Zibrallo, who succeeded in getting the event cancelled. The quick action spared a terrible chillul Hashem and prevented several Jews from taking the final step to convert out of their religion.
A week later, the missionaries succeeded in sinking their claws into Ra'anana. They managed to assemble 300 people on a Shabbos morning in a local high school auditorium for an event that included the baptism of more than a dozen Jews.
Ilan Cohen, a deputy mayor of Ra'anana and head of the Likud party in the city, who happened to pass by the auditorium during the event, was shaken by what he saw and fire off a sharp letter to Mayor Nachum Chofri. "Is it true that the municipality has given its approval to cult members to use one of the city-run auditoriums for its activities?"
Cohen reminded the mayor that the municipality had recently prevented a Chareidi speaker from using an auditorium, and argued that the city was playing favorites.
A similar appeal was forwarded to the individual who own the auditorium, who responded unequivocally that from now on he won't allow such activities in his facilities.
Yad L'Achim announced that it would continue to use all legal and legitimate means to battle soul-snatchers who rob innocent Jews of their heritage via all kinds of deceptions. These efforts include placing ads in general-interest newspapers in the Gush Dan region that call on owners of halls and cultural centers to investigate the organizations they rent to and determine the precise nature of the events that will be held in their facilities.
"They [the missionary groups] hide behind the names of private individuals or organizations that are unidentified," Yad L'Achim said in a statement. "The intent of the missionaries is to launch a campaign aimed at converting Jews to Christianity and having them undergo mass baptism. We appeal to all citizens: If you have any suspicion as to the identity of those renting large facilities, please contact us immediately."