Missionaries Flood Israel's South With SMS Enticements
11/26/2013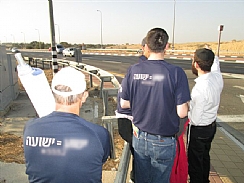 The missionary assault in Israel's south has taken a dangerous turn for the worse as more than 100,000 Jews recently received SMS messages to their cell phones inviting them to order, free of change, materials promising "salvation" via their connection to J.
Yad L'Achim activists, who have been in the field in reinforced teams combating missionaries distributing flyers at busy intersections, were quick to respond to this latest threat, as well. They sent their own SMS messages to hundreds of thousands of local residents, warning them of the true intentions of the missionaries: to try and convert them out of their religion.
At the same time, Yad L'Achim flooded the local newspapers with ads and notices alerting the public as to the missionary campaign, in all its forms.
In the wake of these efforts, Yad L'Achim's hotline received hundreds of calls from Jews representing the entire spectrum of religious observance attesting to the variety of ways the missionaries were trying to influence them. "It's a good thing you made us aware of what's going on," said one caller, expressing the feelings of many. "Now we know not to get taken in by them and not to give any personal information to missionaries who are trying to destroy us spiritually."
Other callers volunteered to join in the effort to, in the words of one outraged resident, "do everything possible to blunt the missionary attack that has spread throughout our homes."
Meanwhile, attorney Moshe Morgenstern, a member of Yad L'Achim's legal team, made an urgent appeal to the attorney general to issue an injunction against the missionary PR campaign. He argued that the campaign was a gross violation of Clause 368 (B) in the criminal code, which states: "One who tries to persuade a minor, in a direct appeal, to convert out of his religion, can be punished by six months in prison."
Morgenstern pointed out that the current missionary campaign directly targets many minors, and is therefore in violation of the law.
The shock that is sweeping southern residents has not passed over veteran journalists, including those who are not religious. Some have contacted Yad L'Achim on their own initiative and confessed that they had previously been unaware of the powerful, destructive influence of the missionaries and were now willing to enlist in the battle against a dangerous campaign that knows no bounds.
Yad L'Achim announced this week that it will continue its efforts to stymie the missionary campaign, using all the legal means at its disposal, and urged the Knesset to amend the missionary law in a way that will put an end to the missionaries' soul-snatching activities in Israel.