Missionaries 'Steal' Jerusalem Official Seal
12/18/2013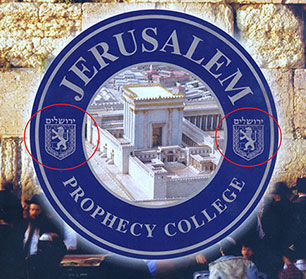 Yad L'Achim has been inundated with calls from Jews expressing shock that brochures conveying clear missionary messages bear the official seal of the Jerusalem Municipality, giving the impression that they are sanctioned by City Hall. The calls came from Jews of all political and religious persuasions, left and right, religious and secular.
Yad L'Achim, which has battled missionaries for more than 60 years and has experience with their use of official state symbols to gain respectability for their programs, immediately contacted the Jerusalem Municipality for a response.
The municipality asked for time to verify that the brochure in question had indeed been distributed to unsuspecting Jews. Yad L'Achim, which circulates in and around missionary events in an attempt to keep Jews from converting to Christianity, was able to immediately produce testimony that Jews had received the material at a recent missionary gathering in Israel.
In response, Danny Liebman, the city's deputy legal adviser, informed Yad L'Achim that the municipality had filed a police complaint against the missionaries for "stealing" its emblem and using it without permission.
At the same time, Yad L'Achim contacted The Jerusalem Post, which included the missionary brochure as an insert to its regular subscribers, and informed the newspaper's management of the seriousness of the matter.
The Post was quick to respond with the following statement: "To our great sorrow, indeed a brochure with promotional content was distributed in our newspaper that looked like an invitation to an innocent convention. The brochure was accepted by our commercial department which had no idea that it was missionary material aimed at converting Jews. In hindsight, and after calls from readers, it has become clear that we are talking about material that is … problematic."
A letter from the Post's director general said: "The brochure was included in our paper by mistake and we are very sorry about this. After receiving calls from readers, we checked it out and now understand the problem. The subject has already been dealt with, a directive has been issued on the matter with the aim of preventing similar mistakes in the future. In addition, we will publish an apology this coming Friday."
Yad L'Achim this week issued a statement noting the severity of the issue and stressing that the missionaries have used such tactics in the past, stealing the emblem of the Kfar Saba municipality for similar purposes.
"Once again we have evidence that the missionaries will stop at nothing to snatch innocent Jews and lead them astray, in their bid to convert them out of their religion," Yad L'Achim said.
The organization's leaders stressed that they would continue to use all legal means to foil the missionaries and urged the public to remain alert to such ruses and to immediately report any attempts to deceive and mislead.