Missionaries Strike Again: Campaigns Targets Israel's South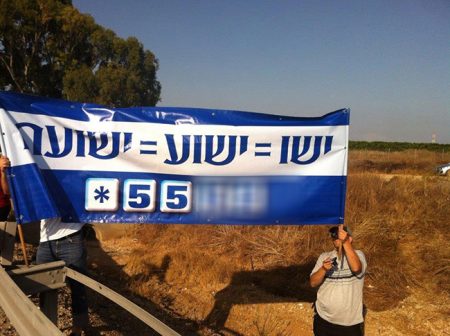 Jews for J. have launched a massive missionary campaign throughout Israel's south, appearing at major intersections with banners bearing Christian messages aimed at converting Jews.
The campaign, which includes Sderot, Netivot, Ashdod, Ashkelon and Kiryat Gat, includes the distribution of flyers to drivers stopped at traffic lights and in mail boxes throughout the region.
Yad L'Achim's hotline has been inundated with calls from southern residents who are outraged by this spiritual assault on the Jewish people, in Israel of all places.
In response, Yad L'Achim has sent beefed-up teams to these junctions to deter the missionaries and to alert passersby as to the cult's nefarious agenda.
At the same time, Yad L'Achim has begun broadcasting public-service announcements on radio stations through the south warning the public of the missionary danger lurking in the streets. Organizing Yad L'Achim's counter-campaign is Rabbi Binyamin Vulcan, who is in charge of dispatching teams to hot spots, based on the latest information coming in through the hotline.
"The extent of the public's disgust for the missionaries never ceases to surprise us," he said. "We can see how the Jewish heart is awake to these dangers and their warm support for Yad L'Achim."
Officials at Yad L'Achim headquarters in Bnei Brak said this week that the bold missionary campaign in the south only goes to show how urgent it is that Israel's Knesset pass effective legislation against the cults.