Missionaries Try to Lure Jews to 'Pesach' Event
04/30/2014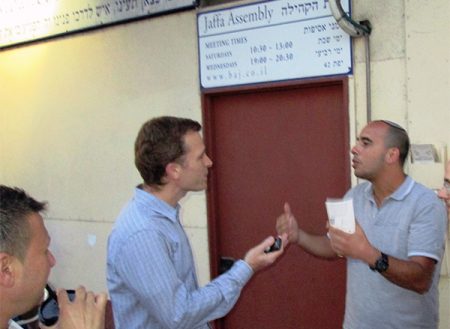 The missionaries continue with their deceitful ruses, only to be foiled by Yad L'Achim.
On Sunday of chol hamo'ed Pesach, a cult in Jaffa held a "Pesach event" that claimed to resemble a seder. In advertising the event, it promised to serve only kosher food and gave no hint as to its missionary nature.
Yad L'Achim responded by distributing flyers alerting residents as to the true intent of the event, revealing the identity of the cult that stood behind it. It also called on all those interested in participating in a real seder to attend any of the dozen public sedarim being held in the area.
As the time of the event drew close, Yad L'Achim activists appeared in Jaffa. They greeted Jews who had read the advertisements and were trying to reach the site. These were innocent Jews who wanted only to enjoy a good meal and a pleasant atmosphere. The activists explained to them that the event was being run by missionaries. "This isn't Pesach but Pischa (Easter)," they told the stunned Jews. "The missionaries want to sever your connection to Judaism."
Some of these Jews confided to the activists that they had nothing to eat for the holiday. Yad L'Achim was prepared for this, having seen over the years how the missionaries take advantage of the economic distress of Jews to convert them out of their religion.
The activists immediately produced food vouchers that were good at local supermarkets and could be used to purchase matzos, wine and other basic necessities.
The missionaries were dealt a serious blow as many dozens of Jews were saved from forging dangerous ties with the enemies of the Jewish people.