New Danger: Muslim Missionaries
November 21, 2007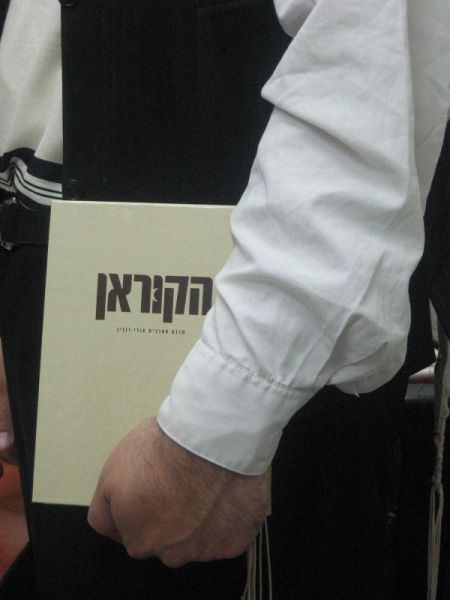 Conventional wisdom has it that while Christian cults attack Judaism with missionaries, radical Islam uses Kassem rockets and suicide bombers. Recent findings, however, show that Muslims are becoming increasingly active on the spiritual battlefield as well.
"In the past year, we have seen the establishment of an Islamic organization that seeks to influence Jews to become Muslims," says Rabbi Moshe Cohen, who heads a special unit at Yad L'Achim, the countermissionary organization. "After several months of intensive field work, we've managed to make direct contact with a number of Jews who have gone over to the other side. They've been converted in Islamic religious courts, live in Arab villages and carry papers that identify them as Muslims."
According to Rabbi Cohen, the organization behind the campaign, Al Dawaa, is headed by Sheikh Abu Yassin of Kfar Manda in northern Israel.
Yassin founded the organization in the wake of his "success" with Yosef Cohen, an American Jew who immigrated to Beersheva and converted a few years ago to Islam. Cohen, who today calls himself Yusuf al-Hattab, forced his wife and three children to convert. They live in the A-Tur neighborhood in Jerusalem at the foot of Har Hazeisim.
In interviews with the media, al-Hattab presents himself as a Hamas member who sends his children to Hamas educational institutions and hopes that some day they will be shaheeds for the sake of the jihad.
Another key figure in Al Dawaa is Ibrahim Naader, from the Shechem area, who also goes by the name Khader Abu-Tor. He sat in Israeli jails for many years for murdering an Israeli girl. Today, he is a leader of Al Dawaa and his word is final.
How They Operate
One field operator, Salim Tawill, is a nurse in a Jerusalem hospital, and while he's tending to the sick he manages to identify people in distress and give them Islamic literature. He passes information on those who show an interest in converting to another activist, Abdullah, who assumes personal responsibility for the potential convert.
Yad L'Achim has learned that Abdullah recently gave up his job as a cab driver in Hebron and now works full-time for Al Dawaa. His job includes traveling to Egypt, Jordan and Turkey, where he raises significant funding for Al Dawaa's activities.
Yad L'Achim has also learned the identities of three other activists, all from Hebron, who are involved in recruiting Jews. One of them sells building supplies in the Old City of Jerusalem and does small construction jobs in the chareidi community. In recent weeks, he has been spotted by Yad L'Achim, together with his brother, in the Neve Yaakov neighborhood of Jerusalem.
Not only does Al Dawaa operate centers in Hebron, Kafr Manda, Shechem and the Arab section of Lod, it also runs an important center in Givat Shaul, at the entrance to Jerusalem. This center houses a sharia court where Jews are brought to undergo conversion and receive new names.
Yad L'Achim has maintained intensive contacts with five Jews who converted to Islam in an attempt to bring them back. They lived until recently in Jerusalem, Beersheva and Ashkelon.
Yad L'Achim chairman Rabbi Sholom Dov Lifschitz said this week that the heads of this Muslim group draw their "inspiration" and funding from the World Al Dawaa organization, which is based in New Delhi.
Rabbi Lifschitz explained that the motive in releasing details of the organization's activities now is "to save these five Jews who have already converted, and to make people aware of the new kind of missionary, the Muslim missionary."
Yad L'Achim is hoping to rescue these five Jews and use their stories in a PR campaign to deter others from following in their paths.