On her Deathbed, Italian Jew Tells Missionaries: 'Let Me Die as a Jew!'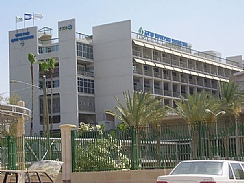 The call came to Yad L'Achim last year concerning a Jewish woman in her 70s who had begun to believe in "that man," ym"sh.
The caller delivers a regular Torah class in Dimona and was told by one of the participants about a neighbor who had immigrated from Italy and was being visited by missionaries from the J's Witnesses cult. These missionaries were taking advantage of her difficulties acclimating to a new country to forge a close relationship.
"They visit her home regularly and preach to her," the concerned neighbor revealed. "Recently they even gave her a copy of the 'new testament,' plus other missionary material in Italian."
Yad L'Achim responded by sending an Italian-speaking activist to the woman's home, to develop a relationship with her and offer spiritual counsel that could serve as a counter to what she was hearing from the missionaries.
The new immigrant, we'll call her T., was most welcoming to the Yad L'Achim activist and after a few meetings, confided that the only ones who had taken an interest in her since her arrival in the country were those two women from J's Witnesses, who arrived at her home regularly with fresh pastries and lots of warmth and love.
It turns out that the missionaries, themselves Jews who converted out while still in Italy, had been paying T. weekly visits for more than a year and had become her close friends.
T., in her innocence, revealed that they had been pressuring her of late to join the church and convert out of Judaism.
Despite the entreaties of the Yad L'Achim activist, T. refused to cut ties with the missionaries. But she did agree to hand over her copy of the 'new testament' and other missionary booklets and receive in exchange a siddur and Jewish reading material in Italian.
A short while later, after the relationship between Yad L'Achim and T. had grown stronger, there was a dramatic development: T. collapsed and was brought to Soroka Medical Center in Beersheva where she was diagnosed with a fatal disease. Doctors didn't give her much time.
The activist quickly made her way to the hospital, where she was warmly welcomed by a pale, weak T. The activist was shocked to learn that the missionaries had already been to Soroka and were trying to convince T. to abandon Judaism, to convert out of her religion before leaving this world.
As T.'s condition deteriorated, the Yad L'Achim activist understood that it was a race against time and against the missionaries. She began visiting daily, keeping in close contact with the doctors to assure that T. was given the best care. The activist spoke to T's husband and was shocked to discover that he had had no idea as to the identity or agenda of the two Italian women who spent so much time with his wife.
Two days later, the activist arrived at the hospital to find that T.'s bed was empty. She had returned her soul to its Maker the night before.
During the funeral, T's husband approached the activist and said he had something important to tell her, relating to his wife's final moments before losing consciousness. "I promised by wife that I would tell you about it," he said in tears.
"With her last remaining strength she asked me to call the missionaries and instruct them not to contact her any further, and to deliver the following message: Leave me alone! I am a Jew and that's how I want to leave this world."
A senior Yad L'Achim official sadly noted that this was further, painful testimony to the fact that we can never give up on any Jew.