Sephardic Chief Rabbi Yitzchak Yosef Issues Special Warning Against Missionary DVD Campaign
23/11/2017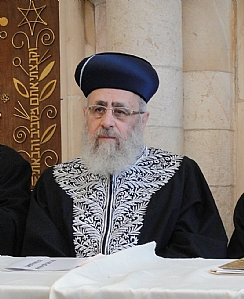 A special notice was issued this week by the office of Sephardic Chief Rabbi Yitzchak Yosef warning the public of the distribution of millions of DVDs in home mail boxes as part of a massive missionary campaign aimed at getting Jews to leave their religion.
The campaign, which began several weeks ago, has prompted hundreds of calls to Yad L'Achim's hotline from cities, towns, kibbutzim and communities around the country. The callers – representing the entire religious spectrum – express outrage at missionaries operating in Israel to convert Jews to Christianity.
As reported earlier, Yad L'Achim has launched a multimedia PR blitz that includes newspaper and radio spots notifying the public of the danger and urging them to destroy the material before it has a chance to enter their homes. At the same time, the counter-missionary organization's top officials have been granting media interviews to explain the dangers.
These efforts stirred a sense of indignation among the public, putting a serious dent in the missionary campaign's chances of success.
Yad L'Achim also sent an urgent letter to the Rishon LeZion, Hagaon Harav Yitzchak Yosef, presenting him with details of the shemad campaign. He was shaken by the facts and figures and quickly instructed his office to issue a letter headed, "Notice and Warning."
It continues: "To our brothers in the House of Israel, the organization Yad L'Achim has passed on information to the Rishon LeZion, the Chief Rabbi of Israel, Hagaon Harav Yitzchak Yosef regarding disks and DVDs that are being distributed these days and contain missionary material that is poisonous and destructive against the G-d of Israel. According to Halachah, one must not listen to or view these disks, but must remove them from the home."
The response team at Yad L'Achim said that the Chief Rabbi's warning is being distributed throughout the country. "We place hope in this important letter of the Rishon LeZion and are confident that his immense influence over the Jewish masses will bear fruit and cause more and more Jews to keep their distance from the missionary danger," said Rabbi Shmel Lifschitz, one of the heads of Yad L'Achim.