Soldiers Complain: Missionaries Hand Us Copies of 'New Testament' En Route to Gaza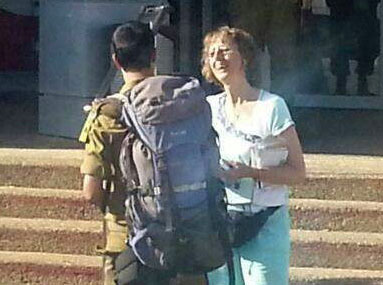 Even during these difficult days, when Israel is battling Hamas terrorists in Gaza, the "Messianic Jews" cult stops at nothing to preach its missionary message to soldiers.
Three weeks ago, on the eve of Operation Protective Edge, Yad L'Achim received complaints from Ashkelon residents that missionaries were approaching soldiers operating the Iron Dome anti-missile system, distracting them from their life-saving task. Yad L'Achim activists in the south were quickly dispatched to the area, only to find that the cult members had already left the area due to the protests of many local residents.
In recent days, many calls have been received by Yad L'Achim reporting on missionaries from abroad circulating in a number of central places where soldiers are congregating, particularly in the south. The cult-leaders approach soldiers who are either preparing to enter Gaza or taking a break from the war.
Those who called to complain included many officers and soldiers who were targeted by the missionaries and who were outraged by the assault. They feel they are under physical attack in Gaza and under spiritual attack when they step over the border back in Israel.
Yad L'Achim staffers dispatched to the scene were shocked to discover that many soldiers, preoccupied with preparations Gaza, had inadvertently packed their bags with copies of the "new testament" they'd been handed by the missionaries, thinking they were Jewish texts that could help protect them. The staffers circulated among hundreds of soldiers collecting copies of the "new testament" and other missionary materials they had unknowingly accepted.
Yad L'Achim this week sent an urgent letter to the defense minister demanding that he put a halt to the disgraceful activity of the missionaries. In the letter, the organization's leaders stressed, that "the missionaries' activities at this time of emergency have crossed all boundaries. We ask you to issue an order to commanders that these soul-hunting missionaries not be given access to soldiers."
Yad L'Achim asks citizens and soldiers to be on alert and report any instances of missionaries distributing material or circulating among soldiers and engaging them in discussion.