Sons of Jewish Mothers, Arab Fathers Undergo Moving Hatafas Dam Bris Ceremony
July 21, 2020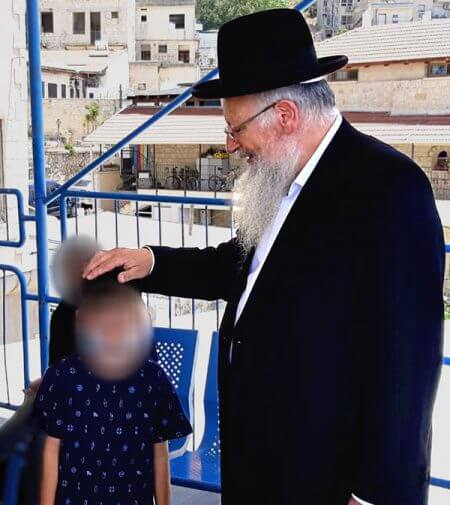 In a special event organized in the holy city of Tzefas, a moving hatafas dam bris ceremony was held for seven Jewish children born to Jewish mothers and Arab fathers who returned to the Jewish people in the merit of Yad L'Achim.
The children, who had been raised and educated as Muslims, returned to Judaism together with their mothers thanks the dedicated efforts of Yad L'Achim social workers who helped the women leave their complicated relationships with Arab men and open a new chapter in their lives.
Yad L'Achim decided to combine the ceremony with a fun day in the north for the children. The women and children arrived on chartered buses, meeting at a park near Meron, and from there, after some recreational activities, proceeded to the Ascent Institute in Tzefas. The Institute, which blends visits to Tzefas tourist sites with activities that strengthen Jewish identity, provided, free of charge, a hotel room on its grounds where the mohel, Rabbi Shlomo Asa, conducted the hatafas dam bris ceremony on each child.
Afterwards, they made their way to a large porch where they were greeted by the Rav of Tzefas, Hagaon Harav Shmuel Eliyahu, Shlita, who'd made a special effort to come and give them a blessing. Harav Eliyahu delivered warm words of encouragement and went from child to child, asking what blessing he'd like to receive for the great mitzvah he had just fulfilled, and blessed each one accordingly.
Yad L'Achim staffers gave the boys certificates attesting to their having undergone a hatafas dam bris, for them to present at their official "Return to Judaism" ceremony at the age of 18, as well as valuable presents. The participants were then treated to a fun day in the north that included several hikes and that ended at the Kinneret.
In light of the success of the day, Yad L'Achim is considering turning the camps that are normally run for dozens of youths rescued from Arab villages into getaways for smaller groups.
"We saw how much this fun day gave the children, both Jewishly and recreationally, and have begun planning similar fun days for the summer vacation in place of the camps that were cancelled because of the coronavirus."