Survivors of Missionary Cults Experience First Pesach Seder
April 07, 2021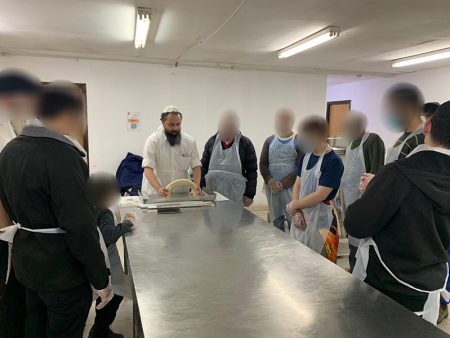 Dozens of Jews rescued from cults celebrated their first Pesach seder this year, thanks to the efforts of Yad L'Achim.
These Jews, rescued from the clutches of groups like the "Messianic Jews" and "J's Witnesses," are in the process of being brought back into the Jewish fold. In advance of the seder, they attended a special seminar conducted by Yad L'Achim to prepare them for the experience.
Over the past year, despite the partial closure of churches due to corona restrictions, the missionaries invested huge sums to lure misguided Jews. They took advantage of the uncertainty and confusion, and the fact that the country was preoccupied with the pandemic, to hunt innocent Jewish souls and bring them into their world.
At the same time, Yad L'Achim fought back with all the legitimate weapons at its disposal, including large forces of professionals and volunteers. It committed special resources to its online operations, aimed at preventing Jews surfing the net from falling prey to innocent-sounding sites and offers.
Drawing from its vast experience, the organization executed a range of activities aimed at curtailing missionary activity, employing preventive actions and extending spiritual and physical assistance to those who got caught in the missionary trap. Yad L'Achim stood by their side and brought them back to the Jewish people.
In advance of Pesach, Yad L'Achim ran special seminars that included a tour of the Matzos Beit El factory that helped make the holiday more tangible. Each person baked half a kilo of matzos, enough to last him throughout the holiday, and heard about the sacred origins of matza, the bread of faith, and its role throughout Jewish history.
Yad L'Achim conducted a model seder to acquaint the participants with its basic laws and customs.
At the conclusion of the seminar, participants were given haggados, specially prepared booklets containing halachos, wine and all basic foods to help them conduct the seder properly. For some, who had been deeply immersed in Christianity, the seder night was a first, as was the taste of the matzos.
The responses that flooded Yad L'Achim during and after Pesach were extraordinary. They spoke of how Pesach was a turning point in their lives, celebrated in a meaningful ways for the first time.
The moving response of Dan, one of the survivors, expressed the feeling of many: "The Holiday of Freedom symbolized the exodus of the Jewish people from slavery under another people to freedom. This year, the holiday took on special meaning; it included personal freedom, freedom of the soul that merited to leave its prison. Over the years I lost my identity and strayed off into strange places. There is no way I can adequately describe the emotions I felt this year, to finally celebrate Pesach as a Jew, as one whose soul is again strong and free."