The Haircut That Saved a Jew
June 20, 2007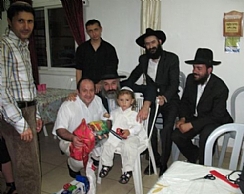 A few weeks ago, Yad L'Achim field operatives in Netanya, who regularly monitor the activities of "J's Witnesses" in the city, noticed a Jewish woman who had begun attending the cult's classes and was quickly becoming a regular.
Without too much difficulty, the operatives gathered enough facts about her to draw up the following profile: an immigrant from the Caucasus region in her 40s, in dire poverty, who had been led to believe that her economic prospects would improve if only she cast her lot with the cult.
Last Wednesday, Yad L'Achim, which has been leading the battle against missionaries in Israel for more than 50 years, made contact with the woman, whom we'll call Mrs. L., and an appointment was made for the next day for field workers to pay her a home visit.
What they found in her rented apartment in Netanya's poorer south side was much worse than they had expected. The refrigerator and cupboards were bare and the family was placing all its hopes on the relationship Mrs. L. was forming with the cult. The Yad L'Achim operatives learned that Mrs. L. was scheduled to be baptized the very next morning. "They promised me a new future as soon as I do this," she said, obviously ill at ease with her decision.
The operatives immediately phoned Rabbi Avraham Bitkin, Yad L'achim's regional coordinator in the area, who was on his way to a "chalakah," a ceremony in which three-year-old boys get their first hair cut (known as an upsherin in Ashkenazic circles). The ceremony had extra special meaning because the parents had been brought closer to Judaism by Yad L'Achim's extensive outreach network.
Understanding that there was no time to waste – what with a baptism scheduled for the next morning – Rabbi Bitkin made a u-turn and headed for the woman's home. He convinced her to join him at the chalakah, in Yad L'achim's Netanya branch, and when she arrived she was engulfed in the feeling of a true Jewish simcha.
"During the festivities, I introduced her to others who had been rescued by Yad L'Achim from cults," said one of the operatives. "They were able to expose the lies that the cult had been spreading and to share their sense of well-being at having adopted a life of Torah and mitzvos."
At the instruction of Rabbi Shalom Dov Lifschitz, founding chairman of Yad L'Achim, who was updated on the events in real time, two Yad L'Achim staffers showed up at the event with three large containers of food and clothes for the woman and her family.
"What would I have done if you hadn't shown up today," the woman told the Yad L'Achim operatives, unable to control her tears. "I can't believe that I was on the verge of giving up my religion…"
She left the simcha, to the sound of the joyous singing, but only after forging what promises to be a long and fulfilling relationship with Yad L'Achim.
Rabbi Lipschitz, on receiving a final report of the day's events, was equally emotional. Referring to a verse from the prophets, he said, "… That no one be banished from Him."
Yad Lachim officials are pleased to report that Mrs. L. is now taking her first steps toward a full life of Torah and mitzvos.