The Jewish Baby That Became a Priest in Poland and Returned to Judaism
September 12, 2021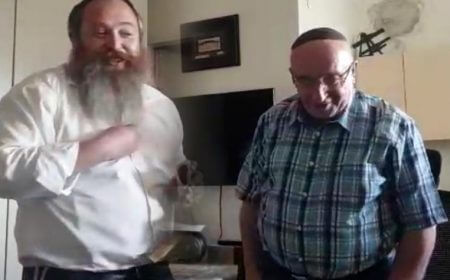 On a winter night in 1943, a young, frightened woman knocked on the window of the Vashkinel home in a small town not far from Vilna.
The woman quickly handed Amelia Vashkinel a small, tightly wrapped bundle containing a baby, who was just a few days old.
That night was preceded by several secret meetings held between Amelia and Batya, the baby's mother, who knew she had been sentenced to death and wanted to save her son.
With the Holocaust at its peak, Amelia was afraid to take in a Jewish baby and raise him. She explained to the mother that if it became known that he was Jewish she would be put to death. But Batya, determined to save her son at all cost, told Amelia: "You are a Christian. When he grows up he'll be a priest and a teacher."
Amelia hesitated, weighing the pros and cons of taking in the baby, and in the end decided to give life to the helpless baby in her arms.
Batya whispered the child's name and disappeared into the darkness. "You had a very Jewish family name," the adoptive mother told her son, when she revealed the secret to him 35 years later. "But I very quickly forgot it. I was afraid it would be a death sentence. And so I didn't want to remember anything from that night."
This is the story of that child, Yaakov, whose life has taken many turns. He discovered conclusively that he was a Jew when he was a senior priest in Poland. In recent years, he has experienced a turnaround, including making huge strides toward a life of Torah and Mitzvos.
Yad L'Achim has been at Yaakov's side during this process, sometimes directly and sometimes indirectly. It provided him with sacred Jewish objects, and more. Recently, an extraordinary meeting was held between Yaakov and Harav Chanoch Gechtman, head of Yad L'Achim's counter missionary department.
At the meeting Yaakov heard the sound of the shofar is like the low, deep cry of a long-lost son returning to his father.
"This is my story, the baby that was taken captive," Yaakov responded with great emotion.
Everyone in the room was moved by the sight of an 81-year-old Jew who had been taken captive as a baby, during the Holocaust, returning to his people.
Yaakov added: "Look at how amazing things turned out. Hashgacha arranged things such that from a young age I was a teacher and then a priest. I never married, which means I never married a non-Jew, and I never had non-Jewish children. I imagine that had things worked out differently, it would have been much more difficult for me to leave everything and return to the religion of my fathers."
Yaakov now lives the life of a G-d fearing Jew in Yerushalayim and works for Yad Vashem. He continues to enjoy a warm connection with Yad L'Achim.