Yad L'Achim Beats Arad Missionaries at their Own Game
January 15, 2013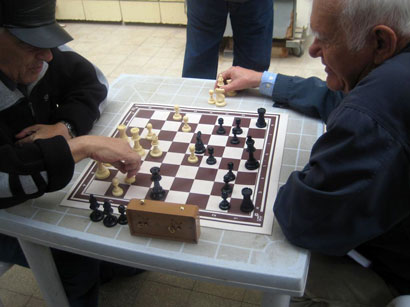 A missionary center in Arad that masqueraded as a chess club has shut down, following a long and difficult battle waged by Yad L'Achim and local residents against the center's organizers.
Over the past decade, Arad has known a number of tough battles against missionaries who have targeted the southern town due to the large number of FSU immigrants who have moved there. These immigrants, who generally don't have a strong Jewish background, are seen as "easy" targets for the cults. In recent years, the missionaries opened a chess club in the heart of the bustling city market where they distributed material.
Initially, Yad L'Achim positioned its teams in front of the "chess club" to warn people away. Then, deciding to fight fire with fire, it opened its own modern, state-of-the-art chess club which offered members a taste of authentic Judaism.
At Yad L'Achim's club, chess-lovers received shmura matzah on Pesach, the Four Minim on Sukkos, candle-lighting on Chanukah and much more.
Yad L'Achim's investment paid off and, before long, the missionary chess club was empty. The missionaries didn't give up easily; they continued trying to lure Arad residents, mainly veteran immigrants, to no avail. Recently they were forced to throw in the towel and close down their club.Despite their defeat, the missionaries tried to renew their activities elsewhere in the city. They contacted the owner of a centrally located building and tried to sign a rental agreement. The missionary who showed up to sign presented himself as a religious Jew who davens three times a day. But when he spoke of investing huge sums of money in the property the owner became suspicious and contacted Yad L'Achim.
Staffers investigated the matter and found that the renter was in fact a senior missionary from the center of the country. The information they passed on succeeded, b'echasdei Shamayim, in preventing the establishment of a new missionary center in Arad.