Yad L'Achim Blocks Missionary 'Shul' in Rechavia
June 24, 2007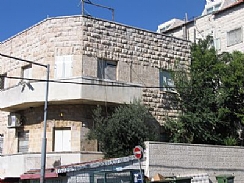 Plans by the missionary congregation Roeh Yisrael to establish the first missionary "shul" in Rechavia, the heart of Jerusalem, were foiled by Yad L'Achim. The cult is headed by Yosef Shulam, who has been filmed baptizing Jews, and consists of people who call themselves messianic Jews.
Yad L'Achim notes that the group is already using a three-floor building in the neighbourhood as a soup kitchen and provides meals to poor people, using humanitarian activities as a cover for their missionary activities.The missionaries had plans to expand the site by constructing a shul, classrooms, a library and residential units.
But to do this they had to change the zoning classification of the plot, and once the plan was submitted many objections were filed with the building and planning committee.Prior to the submission of the actual plan, Yad L'Achim waged an information campaign informing the local residents of the group's true intentions.
"This is a missionary group that has been operating in the neighborhood for the past 20 years and making us miserable with loud noise on Shabbos and Yom Tov," one resident wrote in her objection.
"The center's members engage in vigorous missionary activity," said another. A third letter stated that "Building such a missionary center whose objective is to convert Jews is an offensive action."
Residents also claimedthat apartment prices in the area had dropped since word got around that missionaries were operating there. They also complained about the cars that inundate the neighborhood and take up all the parking spots. A number of immigrants from the United States and France signed a petition stating: "We moved here to live among Jews, and find that there are active missionaries in our neighborhood trying to ensnare our children."
The missionaries responded that that they were doing nothing more than operating a soup kitchen, but Yad L'Achim presented proof linking them to missionary activity.
Last week the municipal building and planning committee headed by Rabbi Yehoshua Pollak denied the application for the construction project, basing the decision on the claim that a residential building cannot be rezoned for an institution because this may set a precedent.
Yad L'Achim Chairman Rabbi Shalom Dov Lifschitz praised the actions of the residents and said that "it has been proven that working with all the legitimate means at our disposal can bring results."