Yad L'Achim Foils Missionaries Trying to Use Israeli Independence Day to Proselytize
08/05/2014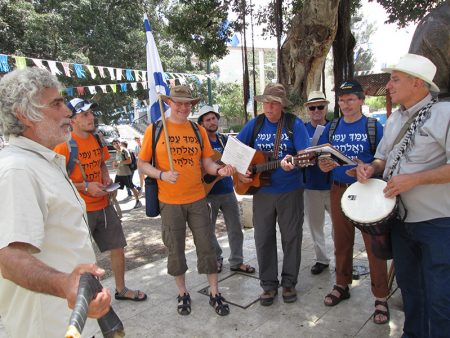 A team of some 50 missionaries from around the world arrived in Israel at the weekend to bolster local cults and help them take advantage of the large Independence Day crowds to reach unsuspecting Jews with their missionary material and message. Yad L'Achim had received early warning and was out in force to foil them.
On Monday evening and Tuesday, the missionaries took up positions at central locations in major cities, including: Allenby Street in Tel Aviv, Bialik Street in Ramat Gan and the Machaneh Yehudah open-air market in Jerusalem. To their surprise and dismay, they were greeted everywhere by Yad L'Achim activists who were cautioning passersby not to be taken in by them and not to take any of their material.
"These are enemies of the Jewish people," an activist would call out to anyone the missionaries tried to engage in conversation. "They want to get Jews to convert out of their religion."
On Monday night, as Independence Day was getting underway, Yad L'Achim learned that the missionaries were lying in wait at the Tel Aviv train stations for the huge crowds arriving from around the country to celebrate.
These missionaries had come from Korea to "spread the word," specifically in Israel, but were unsuccessful thanks to teams of Yad L'Achim volunteers who arrived quickly and forced them to leave.
The main struggle, however, was waged on Tuesday afternoon, when tens of thousands of Jews arrived to watch the Israel Air Force flyover along the promenade in Tel Aviv. Missionaries were spread out along the length of the promenade, distributing their missionary material. But many Jews, who were shocked and disgusted at the sight, phoned Yad L'Achim's hotline, and activists were immediately dispatched to the area. Many of these concerned citizens even joined in the effort to stymie the missionaries.
"You are doing holy work," was a comment heard more than once. This appreciation was expressed in the main by Jews who, judging by their appearance, were not Torah- or mitzvah-observant. They were outraged at missionary attempts to get Jews to convert to Christianity.
The day wound down for Yad L'Achim activists with a sense of satisfaction both in the success of their operations and the spontaneous support shown by the broad public for efforts to counter missionaries.
"You could see very clearly that Israel is awake to the threat," said Rabbi Binyamin Vulcan, who coordinated the preventive actions. "Am Yisrael said 'no' to the Christian missionaries. And the missionaries felt this."