Yad L'Achim Protests at Baptism Ceremony for Jews in Haifa Convention Center
September 16, 2019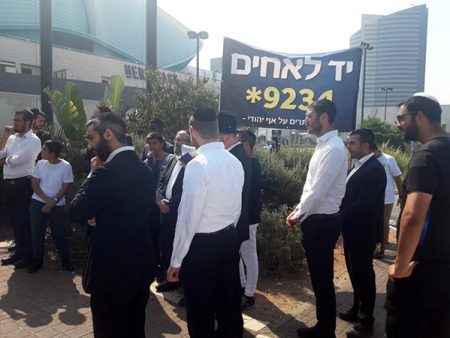 Hundreds of members of the J's Witnesses arrived by bus from all around the country to the International Convention Center in Haifa for the Christian cult's annual event. In attendance were some of the cult's leaders who arrived especially from abroad to convince Jewish participants to convert to Christianity and to supervise the conversion ceremony.
Yad L'Achim field workers, who had been tipped off about the event, arrived with activists and Haifa locals to make Jews contemplating baptism aware of their mistake and the dangers of joining the cult.
Yad L'Achim complained that the HCC had only just refused to hold an event for chareidim because it involved separate-gender seating, but agreed to host a missionary conference aimed at getting Jews to convert to Christianity.
Rabbi Shmuel Lifschitz, one of the leaders of Yad L'Achim, said "it is shocking to see convention centers in Israel lending a hand to converting Jews out of Judaism, holding a ceremony that Jews throughout the generations gave up their lives in order not to submit to."
Yad L'Achim added that they expected the Haifa municipality to ban any events that preach to members of one religion to convert to another. "Every religion is permitted to hold religious events that are directed at their own members, but not events that are about preaching to others and recruiting them from another religion. We're talking about inciting religious wars that will tear at the sensitive fabric of life in Haifa."