Yehud Mayor Shuts Down Scientology School
12/25/2011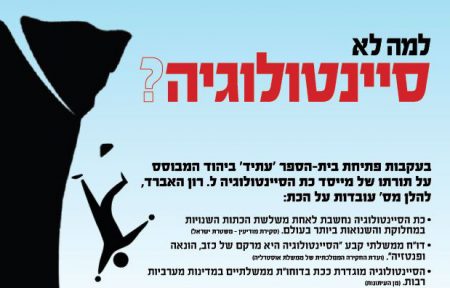 Residents of Yehud, a town of 25,000 people in central Israel, won a victory last week when the mayor ordered a local Scientology school closed.
The school, called Atid ("Future"), opened three months ago. The school's founders were careful to mask their connection to the cult, but the father of one student, an educator by profession, became suspicious when his son brought home workbooks that hadn't been approved by the Education Ministry. He turned to Yad L'Achim, which looked into the matter and discovered that the workbook was based on the teachings of L. Ron Hubbard, the founder of Scientology.
On further investigation, Yad L'Achim learned that the school's principal was an active member of the cult's Tel Aviv branch.
Furious Yehud residents held a series of protests in front of the school and in front of the Yehud-Monosson municipality (in 2003, Yehud merged with the neighboring community of Neve Monosson).
Resident pressed municipal leaders to convene an urgent meeting, at which they apprised the mayor of the direct connection between the Atid school and Scientology. The organization running the school, the "Association for Advanced Education in Israel," was a front for the Scientology church.
At the conclusion of the meeting the mayor, Mr. Yossi Ben-David, announced that he would turn to the city's chief rabbi, Rabbi Shlomo Tovim, for a ruling on the matter. The Rabbi confirmed that the school was indeed connected to Scientology.
Last week, the saga came to an end, to the relief of concerned residents, when the mayor issued a closure order to the school after its principal failed to produce necessary permits from the Education Ministry.
"We're grateful to the mayor for taking this step," said one resident. "But most of all, we're grateful to Yad L'Achim for making us aware of the school's connection to Scientology and leading the campaign to get it closed down."