5,000 Attend Tefillah Rally Opposing Missionaries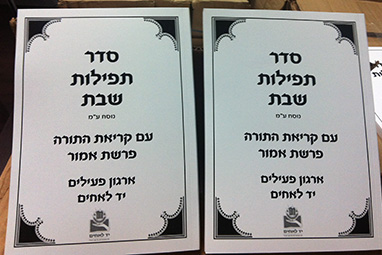 An unprecedented crowd that police estimate at 5,000 people participated in a tefillah rally in Raanana this past Shabbos to express united opposition to a mass missionary event being held in the city's sports center.
The tefillah rally was organized by Yad L'Achim late Friday afternoon after the High Court of Justice overruled the Lod District Court's decision to cancel a planned mass baptism at the city's sports center.
On Friday night, Yad L'Achim activists, headed by Rabbi Binyamin Vulcan, Rabbi Yisrael Reisner and Rabbi Yaakov Weider, visited shuls and delivered impassioned drashos urging people to join the Shacharis and Mussaf services the next morning.
Dozens of shuls, led by their Rabbanim, made their way to the sports center to participate in a moving display of achdus. Prominent among the participants was the Clevelander Rebbe, who arrived with his Chassidim and a sefer Torah.
Hundreds of secular residents also came to express their disgust at the missionaries in their midst, and their outrageous activities. Secular city council members who were present said they could not recall a greater display of unity in Raanana.
Hundreds of French immigrants also participated in the tefillah. "We didn't come to Israel to be confronted with missionary activities like these," said one.
Due to the national uproar caused by the case, which bounced back and forth between the courts and was the subject of several Raanana city council meetings, hundreds of non-city residents spent Shabbos in the city in order to attend the rally.
Among the thousands of mispallelim, three boys celebrated their bar mitzvahs, proudly proclaiming that Am Yisrael is faithful to its mesorah, from generation to generation.
"This huge gathering is a clear statement of our power to vanquish the enemy," Harav Yizchak Peretz, the city's Chief Rabbi, told the crowd. "Our strength is in our unity.
"I promise you this will be the last missionary group active in Raanana. We came to Eretz Yisrael to live as Jews, and the missionaries have no right to convert Jews out of their faith. They have no right to exist in this country."
Despite their best efforts, buses arrived at the center carrying 400 Jews from all over Israel to participate in the event. The crowd cried out in pain as each Jew entered the sports center.
Yad L'Achim took precautions to ensure that there would be no violence. It distributed flyers with messages from Rabbanim saying that provocations would only serve the enemy. The huge crowd, without exception, heeded the call and was mekadesh Shem Shamayim.
Yad L'Achim reissued its call to chareidi MKs to do everything in their power to legislated effective anti-missionary legislation.