A New Low -12-Year-Old Missionaries!
March 21, 2007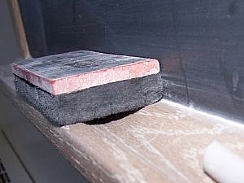 At a recent closed-door meeting of J.'s Witnesses, a 12-year-old took to the podium and made a stunning announcement: "I have merited to bring word of J. to many students in my school."
Though the meeting on Lincoln Street in Tel Aviv was closed to the public and the press, Yad L'Achim obtained details of the girl's comments and immediately passed them on to the principal of the young missionary's school.
"A student of yours who goes by the name… got up at a recent meeting and said that she engages in missionary proselytizing on the school premises," Rabbi Alex Artovski, head of Yad L'Achim's countermissionary department, wrote in a letter to the principal. "She added that she has two girlfriends with whom she regularly has a lesson in Christianity."
Yad L'Achim tracked down details of the student and her family, which has endangers Jewish souls with their missionary work and their own children's lives by refusing to allow them to have blood transfusions and other procedures, in accordance with J.'s Witness doctrine.
Rabbi Artovski concluded his letter with an emotional plea to the school principal. "Yad L'Achim has spent many years working to save Jews from missionaries and we are appealing to you to give us the names of the girls this missionary is studying Christianity with and their parents, so that we can explain to them what kind of danger they are being exposed to."
At the same time, the principal was asked to bar the 12-year-old from engaging in missionary activity, as required by Chapter 368 B in the criminal code, as regards using minors to missionize
Yad L'Achim's founding chairman, Harav Shalom Dov Lifschitz, said that the incident shows that the "missionaries will stop at nothing to achieve their dastardly goals, and that there chutzpa know no limits. At the same time, we are bitterly disappointed that the legislators and the police are doing nothing to halt the worrisome spread of missionaries."