Alert Modiin Man Documents Missionary Activity, Leading to Filing of Police Complaint
June 08, 2016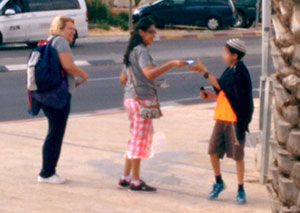 An alert Modiin resident who snapped a picture of missionaries soliciting a child and sent it to Yad L'Achim played a key role in getting a police complaint filed against the missionaries.
The resident, we'll call him D., was standing at a central location in the city and warning people about a group of missionaries standing at a nearby corner distributing missionary material to passersby. The missionaries have conducted a special campaign in the city for the past two weeks.
To D.'s shock, he suddenly saw them hand their Christian PR material to a religious child wearing a large kippah on his head. He photographed the incident and approached the mother to warn her about the nature of the pamphlet, which she quickly took away from her son.
D. sent the picture to Yad L'Achim's countermissionary department, which quickly contacted the mother of the child, recommending that she file a police complaint, since it is a violation of the criminal code to try and get a minor to convert out of his religion.
The next day, the family arrived at the Modiin police station, accompanied by Rabbi Binyamin Vulcan, Yad L'Achim's field coordinator, and filed an official complaint.
Attorney Moshe Morgenstern, part of the Yad L'Achim's legal team, said this week that distributing missionary material to a minor is a very serious matter. "We're speaking about a violation of clause 368A in the penal code which states that 'one who makes a direct appeal to a minor to convert out of his religion is liable to receive a prison term of six months.' We call on the police to punish to the full extent of the law those who break the missionary law."
Morgenstern stressed that Yad L'Achim would continue to follow up on the police's handling of the case and that if it should close it "due to lack of public interest," Yad L'Achim would file an appeal with the attorney general and, if necessary, with the courts.
Yad L'Achim praised D. for his alertness and for intervening on behalf of the child and others and called on the public to continue to keep their eyes open and report all cases of missionary activity to the Yad L'Achim hotline at 1800-620-640.