Bombs and Missionaries in Sderot
November 14, 2007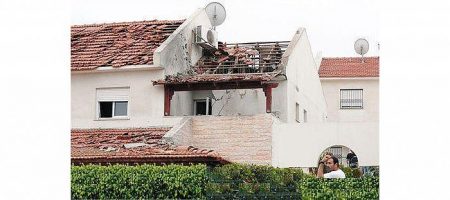 As if it weren't bad enough that Sderot residents are being hit by incessant Kassem rockets, they are also being bombarded by missionaries who are seeking to take advantage of their distress by promising them "salvation."
Residents report that the missionaries knock on their doors and offer an impressively bound "new testament" that was published in a special edition for Sderot. The missionaries promise that these books will serve as a good luck charm to protect residents from rocket attacks.
In response, residents were quick to contact Yad L'Achim, Israel's counter-missionary organization, which immediately dispatched activists to the city to counter the missionaries. "As soon as I saw the missionaries and understood that were going house-to-house, I notified Yad L'Achim," said Herzl Shuabi, a former deputy mayor of Sderot. "At the same time, I trailed the missionaries and collected the destructive books they left behind."
Sderot residents were not passive in the face of the missionary onslaught. Avi Ben Abu, for instance, a grocery store owner, chased after some of the missionaries until he verified that they were leaving the city.
"It's inconceivable that the missionaries will take advantage of our distress and put salt on the wounds by leading innocent Jews astray," he said.
Ben Abu described how the missionaries operated in his city. "At first, they distributed "new testament" texts with gold-edged pages which to many people looked like books of Psalms," he said. "Anyone who engaged them in conversation was given a book titled "Why me?" and urged to keep in touch." According to Yad L'Achim, the "Why me?" book is written by the well-known missionary Yaakov Damkani.
Last Tuesday, market day in Sderot, a reinforced team of Yad L'Achim activists arrived to distribute information on the missionaries and to call on residents to refrain from making any contact with them.
At the same time, a Yad L'Achim van circulated among the various neighborhoods, with a megaphone notifying them to turn over any missionary material they had received. Many responded to the call, grateful for the opportunity to unload material they didn't want in their homes.
Sderot residents expressed gratitude to the Yad L'Achim activists for their support and quick action in driving out the missionaries.
Yad L'Achim chairman Harav Shalom Dov Lifschitz blasted the cruelty of the missionaries who took advantage of Sderot residents' distress to advance their cause. "Missionary activity in Sderot proves how cruel they can be," he said. "Even when residents are suffering from daily rocket barrages, and living in trauma and fear, they see them as prey to be attacked and taken away from their religion."
Yad L'Achim is reportedly close to obtaining the exact addresses of these missionaries and will follow up with legal action.