Children Rescued from Arab Villages Treated to Yad L'Achim Summer Camp
August 31, 2022
To the casual observer there was nothing special about the rambunctious group of youths kayaking down the Jordan River. No one could have imagined that these children were born Muslim and miraculously made their way back to the Jewish people and the G-d of Israel.
They were born in places like Kafr Qassem and Ar'ara, Jaffa and Qalansawe, Sakhnin and Deir al-Asad to Jewish mothers and Arab fathers, and very nearly lost to the Jewish people. Until just a few years ago they were living under different names, some in the Palestinian Authority and some under Hamas rule in Gaza. If not for the tremendous efforts to bring them back to the Jewish people, they would likely be in camps run by terror groups or Islamic organizations, being inculcated with Jew-hatred.
Only the dedicated Yad L'Achim staffers who organized and ran the camp could appreciate that behind the idyllic scenes of camp fun were children whose pain was being replaced with true happiness.
The summer camp was a chance to let children of survivors get to know other children with similar backgrounds, to become better acquainted with their Jewish heritage, and to give their hard-working mothers a break.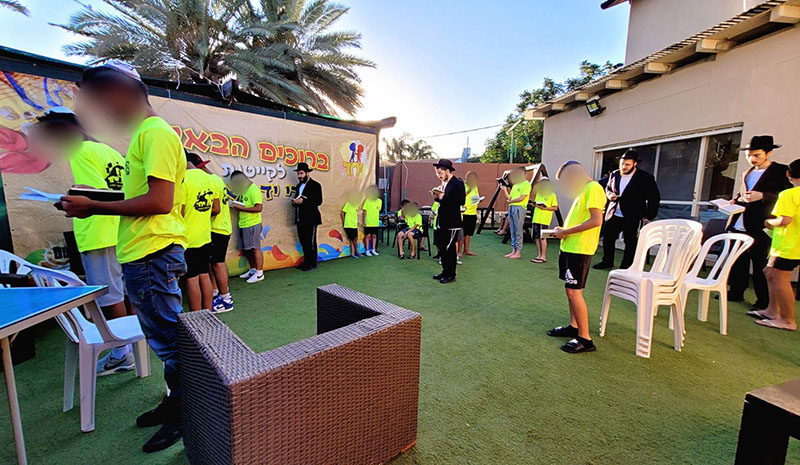 Harav Chaim Kahan, a senior Yad L'Achim official who organized the camp, put it this way: "These are children who are sometimes called bad names and feel they have to hide their new identities when in Jewish surroundings. But here they can be themselves. They're among equals. Freed up. Finally, they can share experiences with children who are just like them; they don't need to hide or feel embarrassed at their lack of knowledge. The camp gives them the backing, the support to make a positive change in their lives, to see how a Jew behaves, and to become familiar with tzitzis and kippa, tefillah and Modeh Ani, Kriyas Shema and Netillas Yadayim, and more."
The experiential summer camp was held in a beautiful facility in the north that came with a pool and playground equipment. The programming included activities, competitions and exciting tours, all with Jewish and social messages designed to accommodate the needs and abilities of the participants.
An official in Yad L'Achim's counter-assimilation department commented: "Only when you see the response of the children's mothers can you understand the importance of the summer camp, which is much greater than we initially imagined. Besides the camp experience, which of course was provided at no cost to the families, the mothers and children got an emotional boost and a chance to draw closer to the tradition of their fathers."
A glimpse at some of the feedback from mothers that reached Yad L'Achim's social workers offers an insight into what the camp – and the interaction with the organization – has meant to them: "For years, I personally and my children are in the best place we could wish for ourselves, and it all began with the merit of the Yad L'Achim family. Thank you for the amazing summer camp that was run in the most respectful, joyous, pampering way possible."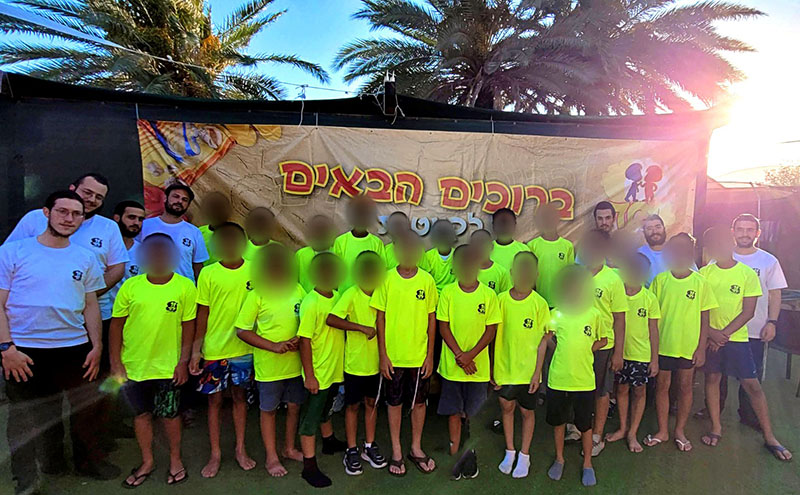 Another message read: "I want to thank the Yad L'Achim family in the name of all the children and their mothers. A giant thank you from the heart for spoiling our children totally; it's obvious that everything was done out of love and an unlimited desire to make this a wonderful experience for the children."
Another mother stressed: "Thank you for this summer camp, thank you. This wasn't Yad L'Achim, it was representatives of the Creator. Angels, thank you for the camp, for the concern, for the care. Thank you to the entire staff that was with them on the ground, and to the staff that worked behind the scenes. I am certain that you spent a fortune to make this camp happen so that our children would be happy and get a little break from their routines."
In yet another message, a mother said: "There are no words. Yad L'Achim is angels. The children are returning with light in their eyes. I know how hard you worked day and night so that this camp would happen, worrying about details, large and small, and leaving your own families and children to come here and be a part of this great endeavor."