In Victory Over Hamas, Mother Brings Son to Bris Mila Behind the Back of Arab Husband
November 09, 2023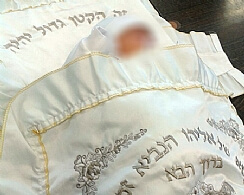 Many of the details cannot be divulged, for obvious reasons, but the bris held recently for the son of a Jewish mother and Arab father was breathtakingly dramatic.
The story begins two and a half years ago when Rina (not her real name) married an Arab, despite the entreaties of family and friends.
It didn't take long for her to realize her mistake and as soon as the beatings began she called Yad L'Achim's emergency hotline. One of the organization's social workers reached out to her about arranging an escape, but Rina wasn't sure whether to cut off the relationship or give her Arab husband another chance.
What made up her mind was the discovery, a month or so later, that she was pregnant. "I don't want my son to be born into a life filled with hatred and violence," she said. "I don't want a Hamasnik child."
Shortly after her rescue and transfer to a secret safe house, Rina gave birth. With the help of Yad L'Achim legal advisers, she registered her son with the Interior Ministry under her name only, and began making preparations for the bris.
But her violent husband continued to cast a shadow over her life. After obtaining details on the bris from joint friends, he called to say he objected to the ceremony and was en route to the shul to prevent it. He even phoned the police and claimed that his Jewish ex-wife had kidnapped their son and was performing a bris against his will.
Fearing a violent confrontation, Yad L'Achim security officials quickly ushered Rina out of the shul and notified the mohel and family members to stay away from the area.
At the same time, the officials called the local police station and explained that the Arab ex-husband's claim was the blood libel of a violent man.
After a nerve-wracking hour, it was decided to hold the bris in a shul in a different city. Yad L'Achim's security people were supplemented by other employees bearing arms, while the bris was carried out quickly and with barely a minyan.
The child was given the name Binyamin, after Rina's father.
Later, on the way back to her secret safe house, Rina told the social worker: "Now I know that my son will grow up as a Jew, that no Arab will take him from me and from Am Yisrael. This is my personal victory over Hamas and all the haters of Israel."
URGENT: YAD L'ACHIM HAS RECEIVED CALLS FROM WOMEN & CHILDREN THAT NEED TO BE RESCUED IMMEDIATELY DUE TO THE ONGOING SITUATION IN ERETZ YISRAEL.
HELP US RESCUE THEM! VISIT YADLACHIM.COM OR CLICK HERE NOW
_
_