It's 'Raining' Weddings at Yad L'Achim
January 14, 2015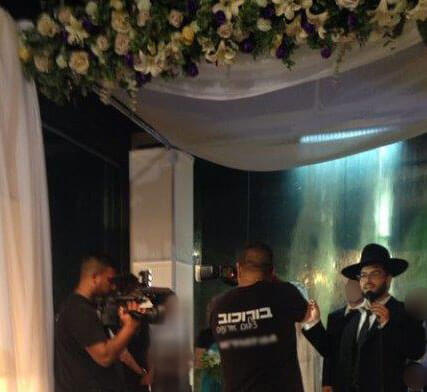 In recent weeks, Yad L'Achim's offices received six wedding invitations from women rescued by the organization from Arab villages. These women, from Haifa in the north to Ashdod in the south, are marrying and setting up blessed Jewish homes.
The invitations stirred emotions in Yad L'Achim's counter-assimilation department, whose staffers have accompanied the women from their rescue to the chuppah. "Every invitation represents the closing of a painful circle in their lives, as they take this crucial step in rebuilding their lives," said one staffer.
One of the women, C. who married last week, is a 30-year-old mother of two.
C. first contacted Yad L'Achim a year ago, after a decade of being trapped in an abusive marriage with an Arab, who also mistreated her children. Her relationship with her parents and siblings had been severed and she had no means of breaking free of him.
With the help of a friend, she contacted Yad L'Achim, which arranged a complex rescue and secreted C. and her children to a "safe" house located far from her husband's village.
Since then, C. has been undergoing a rehabilitation process that includes all facets of her life and has become a member of the Yad L'Achim family. "The most natural thing for me was to ask my Yad L'Achim social worker, Moriah, to accompany me on the day of my wedding and walk me down the aisle," C. recalls. "She is such an important part of my life. She's more than a friend. She's practically a mother. To my great joy she agreed."
Moriah laughs and says she didn't hesitate about agreeing to C.'s request. "I feel like I've married off a daughter," she says. "So it was obvious that I'd clear out the day of her wedding to be with her."
C. would like to convey a message to her fellow "survivors," who sometimes get depressed and give up hope of ever setting up Jewish homes of their own. "Believe me, it's possible," she says. "This is what awaits each one of us."
Yad L'Achim released a statement that every wedding of a woman it has rescued is a moving, joyous event for the entire staff. "After C. and her friends have endured such hardship for so long, we wish them success in building a happy Jewish home."