Kul al-Arab Accuses Yad L'Achim of Rescuing Jewish Children from their Arab Fathers and Returning them to Judaism
January 12, 2011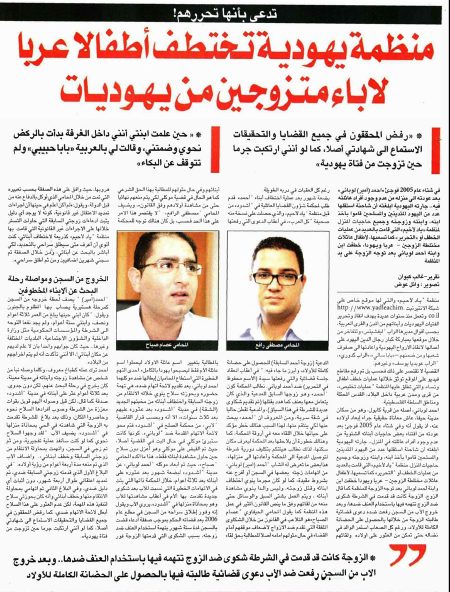 Kul al-Arab, Israel's most influential and widely read Arabic-language newspaper, is continuing its campaign against Yad L'Achim, charging that the organization rescues Jewish women from Arab villages.
"Yad L'Achim has been active for many years in rescuing young Jewish women and their children from Arab communities," begins a major story that appeared recently in Kul al-Arab. "Leading religious figures in Judaism, including the Baba Sali, Rabbi Kaduri, Rabbi Ovadia Yosef and others have blessed and legitimized Rabbi Lifschitz, the head of the organization, for his major efforts in rescuing Jewish souls and returning them to their people."
The article, the second on Yad L'Achim in recent weeks, focuses on one particular rescue of a woman and children that ended up in court in a custody battle. The reporter speaks to the husband and describes his shock at returning home to an empty apartment and his fury at being told by a Jewish neighbor that "Yad L'Achim people 'visited' with a truck and took his son, daughter, wife and household items."
The reporter goes on to describe how Yad L'Achim operates, noting with irony that staffers regard their activities as "rescue activities," not kidnappings. He notes that Yad L'Achim is active all across the country, from Arab villages inside Israel and "occupied Jerusalem" to areas in the Palestinian Authority. The method is always the same, he writes: The wife and children are kidnapped and distanced from the Arab spouse and father.
The newspaper complains that Yad L'Achim then goes to court in order to "change the family name of the children and to give them the name of the mother alone, in order to turn them into Jews in the fullest sense."
In the sole instance in which the paper adhered to journalistic ethics, the reporter contacted Yad L'Achim for a reaction, which appeared at the end of the article. "We don't kidnap anyone. We are the address for anyone who believes in returning to his roots and to his Jewish religion. Yad L'Achim provides this service to any Jew who turns to us."
Yad L'Achim said this week that its legal team will file a police complaint against the newspaper for printing details of a case that is being held behind closed doors. In its report, Kul al Arab violated a court-ordered media blackout on the case.
Yad L'Achim wishes to stress that the woman whose story is profiled in the newspaper suffered for years from her abusive Arab husband and that she had filed numerous complaints with the police that led to his arrest.
It also stresses that the rescue of the woman and her children was executed at her request and that this was not a case of "kidnapping."