Last arrangements for emergency mass-demonstration in the North, declaring:"NO to Missionaries"
05/30/2012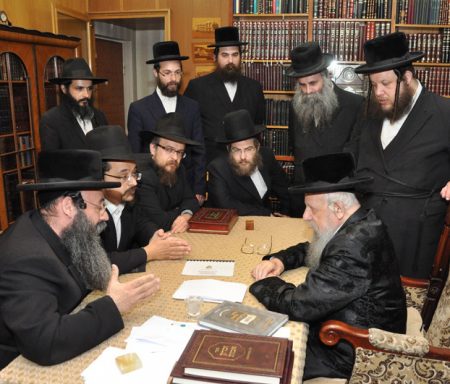 Leaders of Yad L'Achim met recently with the Admor of Seretz Vizhnitz in his home in Haifa and presented details of the latest missionary campaign in the north and what they are doing to combat it.
The admor expressed grave concern over the missionaries' ability to operate freely in their brazen attempts to convert Jews out of their religion.
At the conclusion of the meeting, the admor warmly blessed Yad L'Achim's leaders in advance of a large assembly they are organizing for Haifa on the mounting missionary problem. The assembly, to be addressed by leading Rabbis from the north, will bring together Jews from the entire chareidi spectrum. The goal will be to enlist the entire public in the battle against missionaries, and equip them with effective means for waging the battle.
Meanwhile, Yad L'Achim has held a series of meetings with Rabbis, Admorim and public figures in Haifa and the north to brief them on the shemad campaign that the missionaries are conducting throughout the north. The Rabbanim instructed Yad L'Achim to take a number of important steps to counter the powerful, dangerous measures employed by the missionaries.
Yad L'Achim leaders stress that the shemad campaign is in full swing, with missionaries manning busy intersections and doing everything in their power to mislead innocent Jews, including distributing pamphlets, holding up large banners and engaging them in conversation to persuade them to go in the ways of "J…"
At the same time, they have flooded cities in the north with large signs and billboards that advertise their poisonous message.
The scope of the campaign in the north can be seen from the large number of calls that flood Yad L'Achim's hotline every day, reporting having been accosted by missionaries in public areas.
So far, Yad L'Achim has scored a number of key victories by denying the missionaries use of public platforms to spread their message. In response to appeals from Yad L'Achim, the mayors of Haifa, Karmiel and Ramat Yihai ordered the immediate removal of missionary billboard signs. A similar appeal led the Kavim bus company to remove all missionary ads from its buses.
Yad L'Achim announced that it would shortly release details on the large rally planned for the north, including the names of the Gedolei Torah and Rabbanim who will grace the assembly with their presence.
Yad L'Achim reissued its call to residents of the north not to respond to missionaries and not to engage them in conversation, and to immediately throw in the garbage any of their leaflets and books.
"We will continue to utilize all legitimate means at our disposal to stymie their wicked campaign," said a Yad L'Achim official.