Missionaries Dialing Bnei Brak Homes
January 01, 2007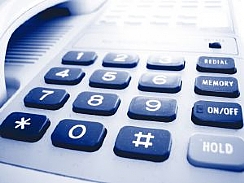 The missionaries aren't resting for a minute in an effort to snare Jewish souls. According to Yad L'Achim, the counter-missionary oganization, they have even been calling chareidi families in Bnei Brak, under the guise of inviting them to shiurim in Tanach and promising free sefarim. Just a few minutes into the conversation, however, it became clear to the people who answered the phone that the callers were missionaries.
Yad L'Achim activists have succeeded in proving that all the calls come from one address: a missionary center in Tel Aviv. Yad L'Achim stresses that even if people do not respond positively to the missionaries' proposals, there can be damage done by simply being drawn into a debate with them.
"This is a grave danger," says Yad L'Achim chairman Rav Shalom Dov Lipschitz. "We are appealing to anyone who receives such a phone call. Even if you know that you are speaking to a missionary and you want to prove to him that you are right – please, don't speak to him. End the conversation and hang up the phone, and then immediately report it to Yad L'Achim."
Yad L'Achim says that if the aggressive missionary activity does not stop, it will hold a large demonstration opposite the headquarters of Messianic Jews in Tel Aviv, where the phone calls are being made.