Once Again, Jerusalem Municipality Cooperating with Missionaries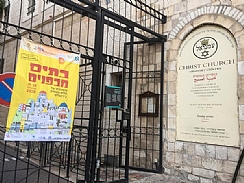 In a worrisome development, cooperation between the Jerusalem municipality and missionary groups associated with the "Messianic Jews" has been on the rise.
As reported previously, dozens of missionaries were permitted to march as part of the Jerusalem Parade organized by the municipality, taking advantage of the opportunity to engage in missionary activity that included preaching to minors, in violation of the law.
Yad L'Achim filed an urgent appeal on the matter which has yet to merit a response from Jerusalem Mayor Nir Barkat or the city's legal department. The missionaries, meanwhile, have gotten plenty of attention and cooperation from the municipality.
In an astounding development, a missionary church was placed on the municipality's recommended list of sites to visit as part of its "Houses from the Inside" program, aimed at inviting residents to view structures of interest from the inside.
Yad L'Achim sent an urgent letter to the mayor's office informing him of the devastating effects, including giving legitimacy to missionary activity and bringing Jews into the lion's den. It demanded the immediate removal of the church from the list.
The countermissionary organization stressed that it's possible that the city made a mistake in including the church on the list. However, in light of the church's track record of over 180 years or preaching to Jews to convert out of their religion, the city must take clear and immediate steps.
Yad L'Achim notes that the Rav of the Old City's Jewish Quarter, Hagaon Harav Mordechai Nevenzahl has joined in the campaign to prevent participants in the "Houses from the Inside" program from entering the church and that letters explaining the crisis have been sent to Rabbis and the members of the city's religious council.
Members of Yad L'Achim's countermissionary department are asking elected officials to pay attention to the fact that the Christian cults are taking advantage of this transition period, between an outgoing mayor and his successor, to establish precedents as regards cooperation between the city and the cult.
At the same time, Yad L'Achim appeals to the broader public to absent itself from the "Houses from the Inside" program as long as the municipality does not remove the missionary church from the list.
The organization also plans to assign activists at the entrance to the church to warn off passersby and participants in the program.