Scandal: Missionary Material Distributed in Bnei Brak Mailboxes
04/15/2013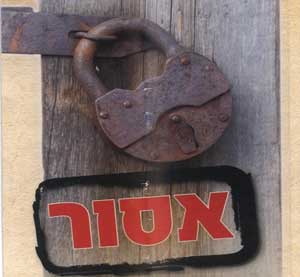 Yad L'Achim is being inundated with complaints from outraged Bnei Brak residents over missionary brochures that are appearing in their mailboxes. The brochures, titled "Forbidden – What the Rabbis Don't Want You to Know," incite against Rabbis and Gedolei Yisrael.
One caller to Yad L'Achim's hotline expressed his anguish at the fact that his young son had brought such material into their home after picking it out of their mailbox. "I felt it was a violation of the sanctity of our home," he said. "How could the postal system deliver such poison?"
Callers were told to immediately destroy the brochure. At the same time, Yad L'Achim distributed a brochure of its own throughout Bnei Brak warning the public not to peruse the destructive material, but to destroy it immediately.
Yad L'Achim's brochure, titled "Shemad in Bnei Brak," warns: "In many neighborhoods in our city, missionary material has been distributed in mail boxes by the 'Messianic Jews' group. Their brochure is a trap! Their real goal is to convert Jews to Christianity. If this missionary material reaches your hands, destroy it immediately!"
Yad L'Achim officials said this week that the missionaries have once again shown that their gall knows no limits, when they can dare to target Bnei Brak for their aggressive campaign of missionary shemad.
"The goal is clear: To infiltrate the homes of residents of the city of Torah and Chassidus."
Yad L'Achim emphasized that it will continue to stand guard, using all legitimate means to prevent the missionaries from gaining a foothold, not just in Bnei Brak but anywhere in Israel.
"This is another example of the urgent need for meaningful legislation against the activities of missionaries in Israel," officials said.