SOS From an Hospital Room
November 06, 2007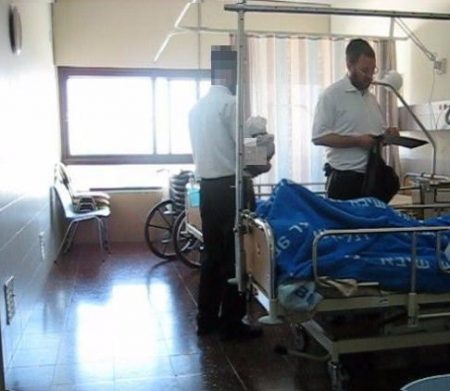 An elderly Jew noted the distress of a fellow patient and the Arab man who never left her bedside and called Yad L'Achim, which executed a rescue that ultimately led her to the chuppa.
The chuppa planned for next month outside a Bnei Brak wedding hall isn't likely to draw much attention from passersby. But the story behind this wedding is anything but run of the mill.
It all started some six months ago, when a call came into hotline from an elderly Jew hospitalized at the Sheba Hospital at Tel Hashomer, in central Israel. He had seen a Jewish girl in one room and at her bedside was a young man who appeared to be an Arab. "From the look of things, she was suffering and the Arab was there to make sure she didn't talk," reported the elderly Jew. "I'm turning to you because you're the only ones who can do something."
Within half an hour after the call was received, two Yad L'Achim activists, R' Ben Zion Feder and R' D. Cohen, were at the hospital, posing as representatives of an organization that distributes food to patients and their families. The two approached the young woman in question with a form they said they needed to fill out in order to continue to provide her with the food service. What they saw – and recorded with the help of a hidden camera – was a girl who appeared to be frightened, even terrorized.
The activists turned over their findings to Yad L'Achim's intelligence department, which learned that the young Arab was an illegal worker and that the girl had left her home in Arad, severing her relationship with her parents, to enter into a relationship with him. Yad L'Achim's first move was to forward its information to the police so that the Arab would be arrested, thereby neutralized as a threat to Jewish girls.
Discussions with family in Arad revealed that the young woman had been orphaned from her father as a child and that she had suffered from a stroke which left her with slight disabilities and resulted in her being rejected by her friends. Her loneliness, in not having a father or a close circle of friends, made her a "perfect" victim for her Arab suitor.
Weeks of painstaking work by Yad L'Achim, including soul-stirring discussions with the girl about the importance of taking her rightful place among the Jewish people, helped heal the rift between the girl and her family.
Last week, the story took another important step toward a happy ending, when the girl, who took upon herself observance of Torah and mitzvos, became engaged to another baal teshuva. After participating in the moving engagement l'chaim, Yad L'Achim officials returned to their Bnei Brak headquarters, took out the girl's file, No. 482, and stamped it "Case Closed."
Harav Shalom Dov Lipschitz, chairman of Yad L'Achim, who will be officiating at the wedding, said that this case shows how important it is for people to take note of what is happening around them. "An elderly Jew is lying in Tel Hashomer Hospital and sees something that sets off warning bells," notes Rav Lipschitz. "He can ignore it, but he remembers his obligation to take responsibility for fellow Jews. He didn't have to do all that much, he didn't have to jeopardize himself. He just had to take out his cell phone and call Yad L'Achim's hotline, and in so doing he saved a fellow Jew. All the neshamos that will come from this young woman and her descendants are in his merit. The message of this story is that we mustn't remain indifferent."