Stunning Discovery – The Archbishop of New York who passed away 14 years ago – was actually Jewish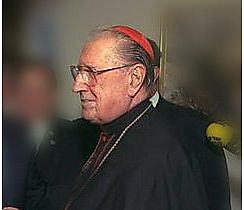 News agencies in the USA and Israel reported that John Josef O'Connor who was the Cardinal of News York for the past 16 years, was actually a grandson of a Jewish Rabbi. O'Connor was famous as a staunch friend and defender of the Jewish people. However, several months ago, 14 years after his death, it was discovered that his personal story is one of tragedy and suffering. O'Conner was a Jewish child, born to an assimilated mother, who withheld this information from him his entire life.
O'Connor was full of empathy towards the Jewish people, especially due to his experience as a Navy chaplain after Dachau was liberated from the hands of the Nazis He used his platform as head of the Archdiocese of New York to support Soviet Jewry, and played a role in the Vatican's recognition of the state of Israel. Mayor Edward I. Koch, a Bronx-born Jew who worked closely with the cardinal, proclaimed that he loved him "like a brother."
Abraham (Abe) Foxman, President of the Anti-Defamation League, speaking to the CBS News network, described him as a true friend of the Jewish people. "He acted like a brother and he was a brother," Foxman said.
The Cardinal's sister's daughter stumbled upon the information while researching her ancestry, and found that her grandparents were buried in the Jewish cemetery in Fairfield, Connecticut one hundred years ago.
The Cardinals' sister, Mrs. Ward-Donegan, was compiling a family tree, and with the help of her daughter, she came upon a picture of tombstones of her grandparents, bearing Hebrew inscriptions. The two women went to visit the cemetery, and when she managed to decipher the names, she found the correct spelling of her maternal grandparents – Rabbi Gustav Gumpel and his wife Tina Gumpel.
The Rabbi in charge of the Jewish cemetery attests to the fact that a century ago, only Jews were buried in this cemetery, although today Gentiles can be buried there as well.
According to research by the Cardinal's sister aided by genealogy experts, it emerges that Gustav was born in Prussia, had 4 children from his first wife, then married Tina. After she bore another 5 children, she died at age 30, and Gustav was left to raise all the children by himself. Tina's youngest daughter, Deborah (Dora) was born in 1887, and was a toddler at the time of her mother's death.
Deborah was raised mainly by two of her half-sisters, who had been thrust into a role they apparently resented. Dorothy evidently bolted her family situation the moment she came of age, and she when she converted to Catholicism in 1908 under the name Dorothy Gomple. After baptizing, she built a new life in Philadelphia, where she married Thomas O'Connor, a decorative painter, in late 1909 at a local Church. There is documentary proof that there were family rifts regarding three other sisters who also converted to out of the Jewish faith.
According to both Mrs. Ward-Donegan and Joseph Zwilling, a spokesman for the New York Archdiocese, the cardinal occasionally referred to his mother as a newcomer to Catholicism. "It wasn't a secret," Mr. Zwilling said. But based on her German roots and apparent knowledge of German as a child, the assumption was that she had converted from Lutheranism.
The family will never know the real reason or causes that brought their mother to choose to leave the Jewish faith. However, "The basic fact is, my mother was Jewish," said Mary O'Connor Ward-Donegan, the cardinal's 87-year-old sister. Observing the Jewish matrilineal tradition, she added, "That means my two brothers were Jewish, my sister was Jewish and I am Jewish. Of that I am very proud."
His family says that it is a shame that during his lifetime he didn't know that he truly was one of the Jewish people. She is sure that if her brother, Cardinal O'Conner would have been aware of this during his lifetime, he would have been very happy. "My eyes fill with tears and I smile as I think of how my brother would have cherished the thought."
Yad L'achim, who have lists of many Jewish children who were hidden in Holland at the time of the Holocaust, and connection with them was lost, comments on this discovery:
"It is a most basic humanitarian obligation to reveal the true identity to a person whose identity was unknowingly taken from him. Cardinal O'conner's story strengthens the importance of the obligation towards children whose Jewish identity was hidden from them for so many years, to search for them and to inform them of the truth about their families and their lives."