Under Fire, Yad L'Achim Delivers Food, Games and 'Spiritual Sustenance' to South
November 09, 2023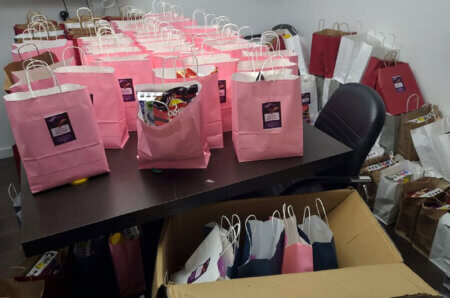 Under fire, Yad L'Achim activists are traveling from town to town in the south to bring food packages, games and "spiritual sustenance" to dozens of women survivors of Arab villages.
Yad L'Achim staffers and volunteers are making the rounds in Ashkelon, Sderot, Netivot, Ofakim and Beershevato distribute packages to survivors of the massacre who have been relocated there. Each package has two parts: one contains dry and canned foods, games, and coupons good at local grocery stores; the other, meant to offer spiritual sustenance, includes a "Chitas" (Hebrew acronym for Chumash, Tehillim and Tanya), a tzedaka box and mezuzos.
"In the wake of the recent tragic events, more and more people are asking to have their mezuzos checked and to purchase mehudar mezuzos for protection and security," said one Yad L'Achim official. "We were happy to comply."
Meanwhile, survivors who were traumatized by the missile fire or who didn't have a security room or nearby bomb shelter were moved to more secure apartments in the center of the country.
Yad L'Achim says the package project was warmly received by survivors. "Each one in turn thanked us for not forgetting them in time of war," said one official. "This latest project is in addition to regular contact with our social workers who raise the survivors' spirits and provide them with emotional support."