Winner of Last Year's Yad L'Achim Rally Holds Moving Hachnasas Sefer Torah Ceremony
March 18, 2020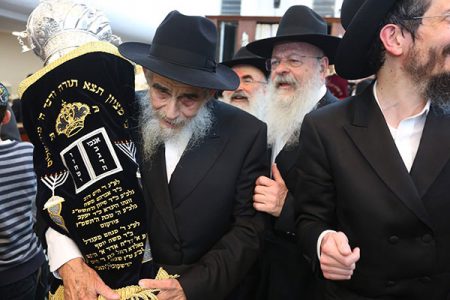 Hundreds of residents of Kiryat Malachi participated in the Hachnasas Sefer Torah ceremony organized on behalf of the Tzirkus family in memory of their parents. Among the participants was the mara d'asra of the city's Chabad kehillah, Harav Yitzchak-Yehudah Yeruzelevski, Shlita, and the mayor, Mr. Eliyahu (Lalo) Zohar.
The Sefer Torah was won by the Tzirkus family in a raffle held last Erev Shavuos for donors to the mitzvah of Pidyon Shvuyim.
Before embarking on the procession to the central shul at "Nachalas Har Chabad," the final letters of the Torah were penned in the Tzirkus family home. Honored with helping complete the Sefer Torah were, among others, Harav Hagaon Pinchas Besser, Shlita, a senior lecturer at Yad L'Achim, and others who were involved in arranging the many details surrounding the ceremony: Harav Chaim Eisenberg, Harav Moshe Cohen and Harav Chaim Kahan.
At the conclusion of the dancing, before the Torah was brought to its news home in the shul, Harav Yaakov Tzirkus recited the Shehecheyanu blessing with the name of G-d, and with great emotion. Afterwards, his son, Harav Yosef Tzvi Tzirkus, a mashpia in Yeshivas Toras Emes in Yerushalayim, spoke.
"In the name of the family, I want to thank Yad L'Achim, in whose merit we are holding this celebration tonight. They have many merits from the wondrous things they have done. We received everything that was promised us: A glorious, mehudar Sefer Torah, street announcements posted across the entire city, financing for the parade and, of course, the right to choose which Beis Haknesses would be its new home."
May Hashem help that this simchah should carry on throughout the year, until the joy of the true and complete Redemption, when we will welcome Melech HaMoshiach with our Sefer Torah."
An official at Yad L'Achim said: "The Torah searches after its home. We are happy that Rav Tzirkus, who is known in Kiryat Malachi for his chassidus – both in learning and in deed – merited to win the Sefer Torah in the last raffle. We are now preparing for the next raffle to be held, G-d willing, on Erev Shavuos, the fourth of Sivan, 5780, and we pray that the merit of this Sefer Torah, 'Torah protects,' together with the mitzvos of Pidyon Shuvyim, will stand in Am Yisrael's stead to be saved from the coronavirus and all harm."