Yad L'Achim Battles to Block Opening of Major Missionary Center in Ashdod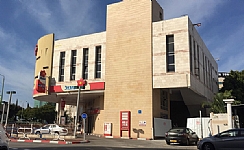 Yad L'Achim has long warned of a "thriving" missionary industry in Ashdod, mainly targeting new immigrants, and has been working full-force to counter it. The missionary effort is led by a congregation that calls itself "Beit Hillel" and uses deceitful tactics to lure innocents to its center in a rented building on Orgim Street.
The modus operandi of the missionaries in Ashdod is similar to that employed by missionary congregations elsewhere. They announce the free distribution of food baskets and other basics, which attract the weak, needy and often Jewishly ignorant to their center. Then they present an array of social and religious activities which turns the unwitting Jews into regular church-goers, with some even undergoing baptism, R"l.
In the past week, in the period of the Christian celebrations marking the end of the civil year, the missionaries beefed up their activities in a bid to recruit the masses.
But all this turns out to be just a preview of what the missionaries have planned for Ashdod. Yad L'Achim has learned that missionaries recently purchased a major facility that will enable them to double and triple the scope of their activities. The funds for the several-hundred-meter facility were provided by Christian donors from abroad.
The plan is to dedicate the facility in the first months of 2018.
Yad L'Achim officials stress that Ashdod – with its high number of new immigrants – has become fertile ground for soul snatchers and one of the most active centers in the country.
Yad L'Achim is battling the missionaries in Ashdod on several fronts. First, it is reaching out to Jews who have been lured to "Beit Hillel," and offering them alternatives. These include Jewish cultural events, a supportive social setting and the distribution of food and other basic needs.
Second, it is organizing efforts to block the establishment of the massive new center, which would enable the missionaries to dramatically increase their activities in the city and environs.
Toward this end, Yad L'Achim warned local rabbis and askanim regarding the dangers posed by the planned center. The city's dedicated chief rabbi, Hagaon Harav Yosef Sheinin, quickly organized an urgent emergency meeting of all chareidi city council members to discuss how to proceed.
Yad L'Achim notes that a letter was sent to the city engineer and law-enforcement officials concerning the illegal use of the new building, designated and zoned for industrial use, as a facility serving the public.
"Changing the building's designation requires the approval of the local planning council," said Rabbi Shmuel Lifschitz, one of Yad L'Achim's heads. "Therefore it is dependent on the approval of askanim and local council members. Their refusal to okay it could prevent the new center's opening and save many Jews from being led astray."