Yad L'Achim Launches Russian-Language Magazine
October 31, 2013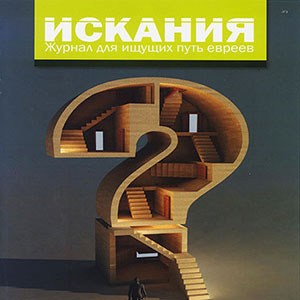 Yad L'Achim this week launched a special Russian-language edition of its journal, Searching, that is geared toward Jews who are confused about their spiritual identity and vulnerable to missionaries. The Russian-language edition comes in response to stepped up efforts by the missionaries to target Russian immigrants in Israel.
Yad L'Achim teams that are regularly stationed at missionary outposts to warn away Jews are distributing copies of the magazine to those who show an interest in the cults. Yad L'Achim is also distributing the magazine via direct mail to a select group of immigrants that is at high risk of being exposed to missionary material.
Searching includes, among other things, an interview with a family that described its long path from the cults to their current lives as religious Jews. They describe their shock at learning from Yad L'Achim how the missionaries had pulled the wool over their eyes and presented their beliefs as a form of Judaism.
The journal includes a section of questions raised by those who've been exposed to missionary material. The answers are presented by Yad L'Achim's top lecturers who deal everyday with saving Jews from missionaries.
It also provides valuable, up-to-date information on active Jewish centers that offer a Jewish, value-laden alternative to the cults, as well as an array of thought-provoking articles that address the concerns of those who are searching.
Yad L'Achim officials say that the Russian-language magazine will continue to appear regularly, in an attempt to enlighten those who are straying from the Jewish people. They stress that the magazine is in keeping with the prohibition of "do not put a stumbling bloc before a blind person" and in fulfillment of the words of our Sages, "All of Israel is responsible for one another."