Yad L'Achim Produces Film for Deaf Against Assimilation
August 26, 2019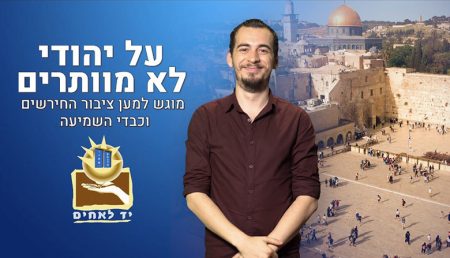 How do you explain the uniqueness of the Jewish people in sign language? That was the question confronting Yad L'Achim as it faced the challenge of how to help the deaf and hearing-impaired public, which is particularly vulnerable to the manipulation of missionaries.
Rabbi Yehoshu Sodkoff, a community Rav and Chabad shliach for the hearing-impaired in Israel, explains the scope of the phenomenon: "We're talking about a small community, which by its nature is not open to the broader public. On more than one occasion, a deaf Jew is tested with the temptation to assimilate. To our sorrow, we discovered that the assimilation rate among the deaf population is high. Naturally, we turned to Yad L'Achim and revealed a source of support that was willing to pitch in and help."
Yad L'Achim put together a new information package that includes a film in sign language and with subtitles that exposes the dangers of assimilation and intermarriage and explains why it is important to remain true to the Jewish people.
A Yad L'Achim official noted: "To our sorrow, assimilation is no longer a consensus issue; more and more people have lost an appreciation for the unique and special quality of the Jewish people, having been denied a Jewish education. If at one time there was wall-to-wall opposition to mixed marriage, today, to our great pain, that Rubicon has been crossed.
"With the deaf population the difficulty was compounded in that we needed to transmit the message using sign language We hired experts and invested much effort in a final product that we hope will assist these precious Jews, who cope daily with limitations, in rejecting attempts to get them to assimilate. Finally we have a quality informational-educational tool that can cope with this acute problem. "
From the special film produced by Yad L'Achim