Yad L'Achim Wraps up Successful Campaign in Paris
July 14, 2019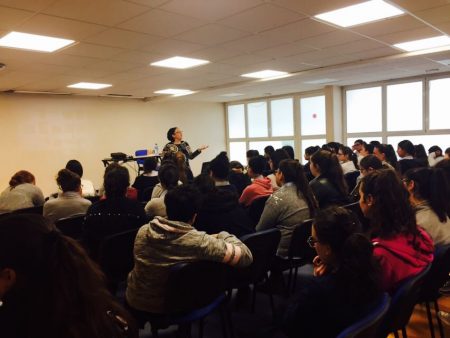 Some 1,500 women and girls from all across Paris participated last week in another round of lectures organized by Yad L'Achim's French-speaking department. The lectures were timed for the end of the school year, as girls were set to begin summer vacation.
Yad L'Achim arranged the lectures in response to strong demand that followed a similar series of talks held in France half a year ago and in light of a worrisome increase in the number of Jewish girls getting involved with Arabs living in France and non-Jewish locals. The campaign was planned specifically for this period, when young people are no longer in educational frameworks, to explain to them the dangers and how to avoid them.
One of the lecturers, Mrs. Karine Barda, the head of Yad L'Achim's French department, offered specific advice on how to avoid entering into problematic relationships. Referring to a number of difficult cases that occurred in France in just the past year, Mrs. Barda emphasized that her message was not just to the girls, but to their mothers, and their role in keeping their daughters safe.
"A warm home and consistent observance of Jewish values are the best guarantee for the future of our children and our families," Mrs. Barda concluded.
The highlight of the lecture series was Mrs. Michal Soltanov, born in Muslim Uzbekistan and married to a local non-Jew, at whose hands she suffered greatly. She told of the difference in mentality between Jewish women and non-Jewish men and the enormous difficulty this creates in raising children. Mrs. Soltanov spoke of the assistance she'd received from Yad L'Achim, which immediately responded to her distress by launching a special operation to rescue her.
"If G-d forbid you get involved in such a relationship, don't give up," Mrs. Soltanov said in her impassioned talk. "Know that there is an address. Turn to Yad L'Achim, and the good angels there will stand at your side and not abandon you until you reach safe shores and develop a new life."
Her powerful words left a strong impact on listeners, who were visibly moved.
The impact of the campaign could be seen immediately. At the end of each lecture, participants crowded around Mrs. Barda with requests for help in getting out of difficult relationships.
"Even after the return of the Yad L'Achim delegation to Israel, we are still getting calls," a Yad L'Achim official said, stressing that the feedback confirms the vital importance of the organization's department for French speakers.
"We will continue to conduct information campaigns to save Jewish girls and future generations anywhere that it is needed."