'Yossi Mizrachi Is Not Who You Think He Is!'
November 07, 2013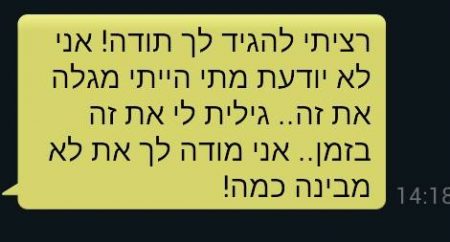 "Do you have a friend by the name of Yossi Mizrachi?"
That's how the conversation began between a Yad L'Achim social worker and R., a 21-year-old woman from a traditional Jewish home who works at a gas station in the Sharon region.
The young woman answered affirmatively, but quickly became suspicious: "Why are you asking?"
Yad L;Achim had obtained information that this young woman had made the acquaintance of an Arab man posing as a Jew named Yossi Mizrachi and that the relationship was starting to get serious.
The social worker explained that she worked for Yad L'Achim and apologized for the bombshell she was about to deliver. "You must know that Yossi Mizrachi is Yusuf," she said, not mincing words. "He is an Arab who is trying to fool you."
R. reacted with shock and disbelief. She had to hurry back to her job, so the social worker made up to meet with her later that evening.
At their next meeting, R. was skeptical about the news that Yossi was Yusuf. "It can't be that he's an Arab," she insisted. "He doesn't have an accent, nothing.
The social worker didn't argue. Instead she provided details on Yusuf and urged R. to take them to the police and file a complaint against her Arab suitor for assuming a false identity.
The next day she went to her local police station and was stunned to learn that, indeed, Yusuf was an Arab posing as a Jew. She immediately severed her relationship with him.
Last week, just three days after the social worker first contacted R., the grateful young woman sent the following message: "I wanted to say thank you! I don't know when I would have found out… You revealed it to me in time…You have no idea how grateful I am!"